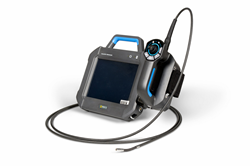 (PRWEB) February 05, 2016
Medit Inc. announces the arrival of a new high definition joystick type video borescope JT Alpha. This is a long awaited addition to the existing line of precision visual inspection tools. A number of innovative features makes the new videoscope a perfect device for many types of jobs. JT Alpha can be utilized for a variety of industrial applications, particularly those where extreme durability and user friendly design are of importance. These applications include, but are not limited to, automotive and aircraft engine inspections, metal casting and welding quality assurance proceedings, and power generation components check up.
Some of the main features that distinguish the new borescope from otherwise similar models are a joystick type control, an HD resolution screen, a touch screen display, and extra durable tungsten multi-layer braided probes. Many users will certainly appreciate the joystick feature. In spite of the obvious user friendliness of this feature and its easy ergonomic interface almost on the verge of entertainment, a joystick is a relatively rare attribute when it comes to visual inspection equipment. For the latter function the joystick is furnished with a simple and handy trigger. The outstanding HD resolution screen provides superb quality live image and photo or video capturing. The display is fairly large (8''), and it delivers 1024x768 resolution, which makes following the inspection details an easy on the eyes task. As mentioned earlier, a user can trigger file capturing with a button located on the handle or else use touch screen interface. The touch screen is another indicator of the special attention the creators of the device put into making it as intuitive, practical, and technologically up to date as possible. Finally, the tungsten coated insertion probes guarantee unsurpassed durability and resistance to scratches, bends, cuts, and other types of mechanical damage that may and does occur during the inspections.
New JT Alpha HD comes in two probe length options, 1.5m and 3m (4.9' and 9.8' respectively). The probe diameter is pretty universal "one fits all" 6.5mm (0.25'') size. Both probes are waterproof (IP67) and boast full 4-way articulation at impressive 170 degrees each direction coupled with the ability to spin 360 degrees and an automatic articulation reset. Other useful characteristics of the video borescope are built-in zoom, high intensity adjustable LED illumination, lightweight construction, and a handy peli type transportation case.
Visual inspection and NDT professionals will surely like its robust built, innovative cutting edge features, amazingly user friendly interface and very reasonable pricing. These characteristics make the JT Alpha HD joystick type videoscope a highly desirable tool for those who value quality, convenience, and cost effectiveness.