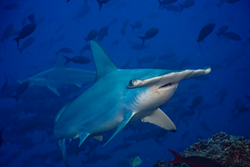 "We are fighting to save sharks for the ocean, for biodiversity and for our future by creating positive solutions for Bay and Ocean Health," said David McGuire, founder of Shark Stewards
Oakland, CA (PRWEB) February 05, 2016
On Thursday, February 10, 2016, from 6:30pm – 9:30pm, Oakland Zoo welcomes the public to attend a presentation by Shark Stewards, an organization dedicated to restoring ocean health by saving sharks and protecting critical ocean habitat.
The second of Oakland Zoo's 2016 Conservation Speaker Series, the evening will focus on the state and challenges of sharks – specifically, why many shark populations have declined by 80% and what we can do to take action to for sharks. "As apex predators, sharks are important to maintain the health and balance of marine ecosystems. Yet as many as 100 million sharks are being killed each year, and large shark populations are collapsing. This causes a negative cascade effect that impacts ocean health, and ultimately the health of all humanity who rely on the oceans for our air, our food, our climate and so much more. We are fighting to save sharks for the ocean, for biodiversity and for our future by creating positive solutions for Bay and Ocean Health," said David McGuire, founder of the 'Healthy Oceans and Bay' campaign and Shark Stewards.
The lecture will illustrate how overfishing, by-catching (catching sharks incidentally while fishing for other commercial species) and shark-finning are the primary reasons for the drastic decline in shark populations – and what can be done in light of these conservation challenges to reverse the trend.
"What a privilege it is to live near one of our planet's magnificent oceans," said Amy Gotliffe, Conservation Director at Oakland Zoo. "As residents of California, we have a special responsibility to learn about and protect the wildlife of our local waters. The health of our sharks is a fantastic way to measure how we are doing. I look forward to welcoming David McGuire and Shark Stewards and learning how we can all do more to take action for these amazing, ancient fish."
The Conservation Speaker Series will take place in Oakland Zoo's Zimmer Auditorium, located at the lower entrance of the Zoo. Attendees can enjoy food and drinks from Cassave Food Truck and participate in a raffle that includes a trip to the Farallon Islands – courtesy of Shark Stewards. Parking is free and the admission price for the evening's speaker presentations is $12.00 - $20.00 per person (sliding scale). All proceeds from this event will be donated to the Shark Stewards.
For additional information about Oakland Zoo's Conservation Speaker Series, please contact Amy Gotliffe, Conservation Director, at amy(at)oaklandzoo(dot)org
ABOUT SHARK STEWARDS
Shark Stewards is dedicated to saving threatened sharks through science, education and advocacy. Sharks are symbols of ocean health. This health is declining and we must restore ocean health for the future of humanity. Our Mission is to restore ocean health by saving sharks and protecting critical ocean habitat. Our campaigns, including the Healthy Oceans Initiative and the Golden Gate Marine Protected Area Collaborative, are directed towards raising awareness on shark conservation and marine ecosystem protection. We advocate policy including the banning of shark finning, and regulating the shark fin trade in the USA and the Pacific Rim. Our Shark Watch educational and outreach efforts in the San Francisco bay brings underserved youth to the ocean. Shark Stewards is a non-profit project of the Earth Island Institute. For more information, go to: http://www.sharkstewards.org
ABOUT SHARKS
Sharks are apex predators and have been around for 300 million years. Sharks are symbols of ocean health. Sharks play a vital role in maintaining the health of coral reefs. Removing these predators through overfishing sets off a cascade of effects that ripple through the food chain. Nearly one out of four shark and ray species is classified by the IUCN (International Union for Conservation of Nature) as Threatened with extinction. A healthy and abundant ocean depends on predators like sharks keeping ecosystems balanced. And living sharks fuel local economies in some places where sharks bring millions of dollars through dive tourism. They may rule the ocean, but sharks are vulnerable. They grow slowly, produce few young, and, as such, are exceptionally susceptible to overexploitation.
ABOUT DAVID McGUIRE
A marine biologist and ocean advocate, David McGuire is the founder of the Ocean Health and Shark Conservation non- profit Shark Stewards. As a Research Associate of the Department of Aquatic Biology at the California Academy of Sciences, David is conducting a shark research program that includes population studies, movements and fisheries impacts. As Captain, Dive Master and filmmaker, David has explored the world ocean on numerous sailing voyages producing media with an emphasis on ocean awareness. Educated in Marine Biology, he holds a Masters degree in Environmental Health and has worked in education and public health at the University of California at Berkeley for over a decade. David is the writer, producer and underwater cinematographer of several award winning documentaries focusing on sharks.
ABOUT OAKLAND ZOO
The Bay Area's award-winning Oakland Zoo is home to more than 660 native and exotic animals. The Zoo offers many educational programs and kid's activities perfect for science field trips, family day trips and exciting birthday parties. Oakland Zoo is dedicated to the humane treatment of animals and wildlife conservation onsite and worldwide; with 25¢ from each ticket donated to support conservation partners and programs around the world. The California Trail, a transformational project that more than doubles our size, opens in 2018, and will further our commitment to animal care, education, and conservation with a focus on this state's remarkable native wildlife. Nestled in the Oakland Hills, in 500-acre Knowland Park, the Zoo is located at 9777 Golf Links Road, off Highway 580. The East Bay Zoological Society (Oakland Zoo) is a nonprofit 501(c)3 organization supported in part by members, contributions, the City of Oakland and the East Bay Regional Parks. For more information, go to: http://www.oaklandzoo.org