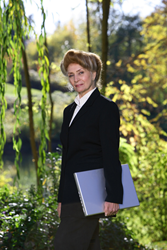 Grants Pass, OR (PRWEB) February 05, 2016
The American public tends to feel uncomfortable about drinking recycled waste water even though, with modern technology, such water may be safer than regular municipal or well water. The recent experience with lead contaminated water in Flint, Michigan, according to fresh water advocate and radio host Sharon Kleyne, could go a long way toward increasing public acceptance of recycled waste water as drinking water.
The Flint water crisis, the aftermath of the California drought, and the benefits of waste water recycling will be discussed on the Sharon Kleyne Hour™ Power of Water® radio show of Feb. 8, 2016. The globally syndicated, education oriented show is heard weekly on VoiceAmerica (Health and Wellness, and Variety Channels) and Apple iTunes. For podcasts of past shows, go to http://www.voiceamerica.com/show/2207/the-sharon-kleyne-hour
Sharon Kleyne Hour® Power of Water® is sponsored by Bio-Logic Aqua® Research Water Life Science®, founded by Kleyne and specializing in fresh water, the atmosphere, body surface evaporation, dehydration and education. The Research Center's signature product for dry eye is Nature's Tears® EyeMist®.
The recent extended drought in Southern California, Kleyne notes, went a long way toward raising public awareness of recent advances in waste water recycling. The cost of waste water recycling has been decreasing and the technology has drastically improved. As a result, in some Southern California water districts, even waste water that is returned to the environment and not used for drinking is treated to drinkable ("potable') standards.
Southern California, according to Kleyne, relied for decades on huge amounts of water imported daily from Colorado and the Sierra Nevada mountains, via a complex network of reservoirs and aqueducts. When this water source dried up, some Southern California water districts concluded that it made little sense to continue dumping millions of gallons of sewage a day into the ocean, while importing millions of gallons from Colorado.
By recycling used water to drinkable standards, these Southern California water districts could eventually avoid having to import any water. Such systems, says Kleyne, could make the districts, virtually drought proof, even though they are located in densely populated, highly drought prone areas.
The implications for Flint, Michigan, and the rest of the country, according to Kleyne, are this: Water recycling systems give the water districts outstanding control over the quality of the water they produce. And the public, when given a choice between drinking water from a potentially contaminated source, and drinking recycled water from a trusted source, may finally be ready to choose the recycled water.
In Flint, says Kleyne, the problem was caused by a change in the city water's pH or acid-alkalinity balance. The slightly acidic water caused the lead content of old pipes and plumbing fixtures, many of which were allegedly substandard to begin with, to leach into the water.
There are various methods of treating pH, Kleyne explains. Certain additives can adjust the pH up or down, making it more acidic (or "soft") or more alkaline (or :hard"). Slightly acidic water is best for washing clothes but may be corrosive to lead pipes. The goal of water treatment is a neutral pH of 7.0 that is neither acidic nor alkaline.
Water recycling, says Kleyne, can either be "direct" or "indirect." In an indirect system, the water is purified and returned to the ground or to a reservoir. Or it is used for non-drinking purposes such as industrial water or lawn watering in golf courses and public parks.
In a direct system, Kleyne adds, treated waste water is distributed directly to the public as drinking water (after being run back through the initial treatment plant). Parts of Southern California, Australia and Singapore now consume directly recycled waste water as drinking water.
Source:
Felton, R and Milman, O, "Flint water crisis: Michigan officials ignored EPA warnings about toxicity," the Guardian, Feb. 3, 2016
http://www.theguardian.com/us-news/2016/feb/03/flint-water-crisis-congress-michigan-officials-ignored-epa-warnings-lead