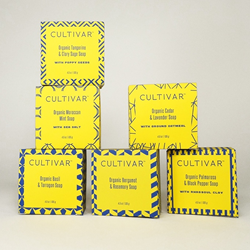 "I became an esthetician and certified aromatherapist and obsessively tested formulas on myself, my friends and my family, until I got the results that I wanted consistently," says founder and CEO Clara Williams
Brooklyn, NY (PRWEB) February 05, 2016
Cultivar, the innovative skin and body care line boasting potent plant-based ingredients, is live on global crowdfunding platform Kickstarter and raising funds to bring their project to life.
The company derives their name from the word cultivar, which literally means a plant or assemblage of plants selected and propagated to express desirable characteristics that make an absolutely unique botanical specimen.
Cultivar, the company, is literally all about plants. It's about using plants intentionally and intelligently to produce incredibly effective products for healthy skin and body. Skin is the body's largest organ which means it's essential to take care of it properly with restorative, nourishing ingredients.
"I created my own skin care line because I had always had problem skin and I was incredibly frustrated with how poorly products worked," says founder and CEO Clara Williams, "I had tried so many brands and most just made my skin even worse. So, I became an esthetician and certified aromatherapist and obsessively tested formulas on myself, my friends and my family, until I got the results that I wanted consistently."
The result is a company that is equal parts science and nature. Cultivar is made for people who don't want to use chemically-laden products that are typically found in the marketplace and because Cultivar is completely natural and uses certified organic ingredients, neither the people who grow the ingredients nor the people using the products are exposed to toxic pesticides.
"Our products work because we care about every single detail in the lifespan of that product: where the ingredients come from (organic), how it's packaged (eco-friendly), how it feels, how it smells, how it works. We aren't flashy. We just know what we are doing and care deeply about creating effective, ethical skin and body care products," says founder Clara Williams.
Cultivar's plant-based skincare line includes innovative products such as a moisturizing and calming cleanser sourced from organic tumeric and Vitamin C, and an under-eye serum whose ingredients include organic green tea and arnica. The line also includes organic dry shampoo, organic beard or shaving oil, and organic Black Coffee Scrub with Ras el Hanout. Also available is an Organic Turmeric and Hibiscus Skin Brightening Face Scrub which helps to keep pores incredibly clear.
Cultivar's Kickstarter campaign is now live and the full line of products are available to purchase here: https://www.kickstarter.com/projects/419579467/cultivar-plant-based-skincare-for-people-planet-an
About Cultivar
Cultivar is a skin and body care company committed to being the best in every possible way since their founding. Their goal has always been to formulate the best products from the best ingredients using the best methods. To this end, Cultivar incorporates elements of the rich traditions of ayurveda, herbalism, aromatherapy and the natural sciences to create their line of truly effective, plant-based skin and body care. Ingredients are carefully sourced from trusted suppliers who maintain a guarded chain-of-command to ensure that these premium ingredients make it from farm-to-workshop in pure, unadulterated condition. During production, these ingredients are minimally processed (no extreme heat, etc.) in order to maintain the efficacy of the active enzymes, nutrients and anti-oxidants.
For more information on Cultivar visit: http://www.skinnyskinny.com
###