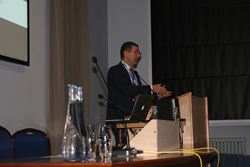 I was delighted with the success of the HS-UK Retina Symposium 2016. Our expert faculty provided us with interesting and insightful talks which proved to be a huge success among delegates. I look forward to planning further educational events during 2016
Harlow, Essex (PRWEB UK) 5 February 2016
Haag-Streit UK (HS-UK), the leading manufacturer and distributor of gold-standard optometry and ophthalmic equipment, recently hosted the HS-UK Retina Symposium 2016. The event took place at the Royal College of Surgeons, London on Friday 22nd January.
The Symposium was chaired by Professor Adnan Tufail, Consultant Ophthalmologist, Moorfields Eye Hospital and the Faculty included a host of other expert guest speakers, including; Professor Giovanni Staurenghi, Professor of Ophthalmology, University of Milan, Catherine Egan, Consultant Ophthalmologist, Moorfields Eye Hospital, Clare Bailey, Consultant Ophthalmologist, Bristol Eye Hospital, Robin Hamilton, Consultant Ophthalmologist, Moorfields Eye Hospital and Marco Morales, Research Fellow at the Division of Ophthalmology & Visual Sciences, University of Nottingham.
The one-day program offered 7.5 CPD points and consisted of short lectures, followed by hands-on practical workshops. The morning session focussed on OCT Angiography and included lectures on; 'An Introduction to OCT-A', 'OCT-A vs FFA/ICG', 'OCT-A in diabetic retinopathy and rare vascular disease' and 'Latest and future developments in OCT-Angiography'. The afternoon session addressed topics such as confocal wide-field imaging of the fundus, SLO microperimetry and laser therapy.
The practical workshops were particularly popular and gave delegates the opportunity to gain some valuable hands-on experience with HS-UK's state-of-the-art retinal equipment, including the revolutionary AngioVue OCT-A system, Eidon wide-field confocal scanner and Ellex Integre Pro multicolour photocoagulator.
Grant Duncan, HS-UK Clinical Training Manager, said, "I was delighted with the success of the HS-UK Retina Symposium 2016. Our expert faculty provided us with interesting and insightful talks which proved to be a huge success among delegates. I look forward to planning further educational events during 2016."
For information on the HS-UK range of retina products, please contact Haag-Streit UK on (01279) 883807 or visit http://www.haagstreituk.com/products