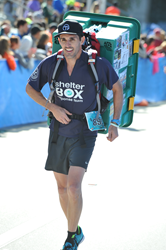 As a ShelterBox volunteer I realized I can make a difference with my hands and not just with my checkbook.
SARASOTA, Florida (PRWEB) February 05, 2016
Steven Tonkinson, 36, of Coconut Grove, Florida, ran the Miami Marathon on January 24, an event he has completed every year since it started in 2003. This year, he ran all 26.2 miles with a green 25-pound ShelterBox strapped to his backpack, attracting the attention of fellow runners and NBA team the Miami Heat.
This Sunday, while many are watching the Superbowl, Steven Tonkinson will strap on the iconic green box again, and trek to the American Airlines Arena in Miami to be recognized by the Miami Heat and State Farm Insurance with the 2015-16 State Farm Exist To Assist Award. The award recognizes ordinary citizens demonstrating extraordinary service in communities across the country.
Tonkinson, a multi-sport athlete that works in finance by day, not only ran the marathon on behalf of his favorite nonprofit, he also became a ShelterBox Response Team (SRT) volunteer seven years ago. The SRT is a group of highly trained civilian volunteers that leave behind their lives, deploying to the countries across the world that have been devastated by disasters and crisis situations. Tonkinson has deployed with ShelterBox seven times to five countries to help distribute ShelterBoxes — which weigh 120 pounds when full. Inside each box are life-saving equipment and supplies including a tent, ground sheets, blankets, solar lamps, water storage and purification units, cooking utensils, mosquito nets, a tool kit, and a child's activity pack.
"It was a great challenge and I feel so honored to receive State Farm's award while standing in American Airlines Arena," says Tonkinson. "Growing up in Miami and experiencing Hurricane Andrew, I know what it's like for people to lose their homes. As a ShelterBox response team volunteer I realized I can make a difference with my hands and not just with my checkbook."
ShelterBox has provided aid to more than 1 million people in 92 countries— from refugees in the Syria crisis to earthquake survivors in Haiti to those left homeless by tornadoes in Oklahoma. ShelterBox is currently responding to flooding in Paraguay and a wave of refugees in Tanzania who have fled neighboring Burundi.
ShelterBox USA president, Kerri Murray notes, " Many of the disasters that ShelterBox responds to annually never make the news headlines, and the service of the volunteers is truly what makes the life-saving work of ShelterBox possible. We are humbled and always amazed by the unique ways that ShelterBox volunteers raise awareness and support for the mission. Steven Tonkinson inspires all of us by his service and commitment to helping people around the world, most of which he will never meet, but cares so deeply about helping."
The marathon will certainly ready Tonkinson for his next ShelterBox mission. In addition to awareness, Tonkinson is hoping to inspire others to donate to ShelterBox, setting up a fundraising webpage. Donations may be made at: http://shelterbox.kintera.org/steventonkinson
###
About ShelterBox
Since 2000, ShelterBox has provided shelter, warmth, and dignity following more than 250 disasters in over 92 countries and territories. ShelterBox responds urgently to earthquake, volcano, flood, hurricane, cyclone, tsunami, or conflict by delivering boxes of essential aid and other supplies. Each iconic green ShelterBox contains a disaster relief tent for an extended family, a stove, blankets, a water filtration system, emergency lighting, and other tools for survival. ShelterBox USA is donation funded, volunteer driven and is headquartered in Sarasota, Florida. ShelterBox is an official Project Partner of Rotary International. Tax-deductible donations to the organization can be made at http://www.ShelterBoxUSA.org or by calling (941)907-6036.