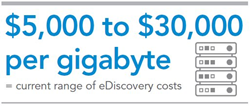 Join the webinar to learn tips you can use immediately to mitigate legal risks, retain data and replace systems and govern data with technology.
South Bend, IN (PRWEB) February 09, 2016
Professionals whose health systems or hospitals are faced with the rising cost of eDiscovery are invited to attend a 30-minute webinar at 1 p.m. Eastern time on Wednesday, Feb. 24, titled "Legal Focus: eDiscovery and Healthcare Record Retention."
The webinar will feature record retention experts Jay Yelton, partner at Warner Norcross & Judd LLP and James E. Hammer, vice president of product and program Management at Harmony Healthcare IT.
Directors of health information management, or HIM, are tasked with handling eDiscovery for an ever-increasing volume of electronic health records, or EHR. One of the main difficulties in producing comprehensive patient documentation for audits or litigation is that information is often stored across disparate systems. Such repetitive and lengthy eDiscovery can escalate costs for any healthcare organization. As EHR replacement becomes more prevalent in hospitals across the U.S., eDiscovery costs have soared even higher and legal and HIM professionals continue to spend more time knitting patient narratives together from both active and legacy systems across the enterprise.
Yelton and Hammer will share tips professionals can use immediately to make a substantial difference in how organizations manage healthcare records and plan for future data management needs. The webinar will focus on how to:

Mitigate Legal Risks – Being prepared for eDiscovery in case of litigation and the possibility of an audit
Retain Data and Replace Systems– The kinds of data that needs to be retained and the main issues with long-term legacy data management, especially in the case of system replacement
Govern Data with Technology – The importance of a cross-functional team to define a long-term data management plan that uses technology to secure records in a searchable and HIPAA-compliant format
Webinar attendees will have an opportunity to ask questions as well as download a white paper co-authored by Warner Norcross and Harmony Healthcare IT, titled Legal Focus: eDiscovery and Health Record Retention.
Register for the webinar at https://attendee.gotowebinar.com/register/7984253590974123265.
The webinar is ideal for professionals who are involved in legal, auditing, compliance or HIM. Other interested parties may include IT, finance and clinical operations.
About the presenters
James E. Hammer is a proven leader with more than 20 years of Health IT experience ranging from implementation, support, P&L, program/project management and strategic and tactical planning to provide practical and actionable solutions solving real problems. Hammer and the Harmony Healthcare IT team are bend¬ing the cost curve for health systems and practices daily by helping clients with data migration and the retirement of replaced HIS, PM, EHR, General Account¬ing, HR/Payroll systems as healthcare organizations move to their new solutions. For more information about Harmony Healthcare IT, visit: http://www.healthdataarchiver.com.
Jay Yelton currently serves as co-chair of the firm's Data Solutions Practice Group. He is a veteran attorney who has spent much of the past two decades designing and implementing plans and programs that help clients manage electronic documents, prepare for litigation and develop eDiscovery strategies. Yelton frequently conducts training seminars on records management and eDiscovery, and has written for and been quoted extensively by state and national publications. His clients have included Fortune 500 companies, government agencies and other organizations. For more information about the firm, visit: http://www.wnj.com.