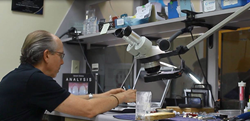 We encourage patients to take their health into their own hands and find out if their dentists are using these high-quality dental laboratories and dental technicians.
(PRWEB) February 08, 2016
According to research by the National Association of Dental Laboratories (NADL), only four states in the U.S. require dental technicians to be certified or obtain continuing education. To increase patient awareness of the lack of standards in the dental industry, NADL created the "What's In Your Mouth?" campaign to inform dentists and patients about the possible lack of skills and knowledge of those who create restorations placed (sometimes permanently) in the patient's mouth.
"Every good team includes good partners. For dentists, dental technicians are true partners in helping grow an oral health practice," said Gary Iocco, co-chair of the NADL Public Awareness Committee. "Although operating behind the scenes, dental technicians are a crucial part of ensuring delivery of quality dental care to the dental patient."
Since the dental industry is constantly implementing new technology and materials, it is important for dental technicians to stay educated. However, continuing education for dental technicians is not mandatory. According to this report, the U.S. is the only non-third-world country that doesn't have some form of requirements for dental technicians.
"It is important that dentists ask their laboratories and technicians about their skills, knowledge and operating standards and if they have obtained voluntary 'third party verification'. There are many dental technicians and laboratories committed to quality standards," said Iocco. "We encourage patients to take their health into their own hands and find out if their dentists are using these high-quality dental laboratories and dental technicians."
Patients have the right to know where their restorations are from and the qualifications of the business that made the restoration. "What's In Your Mouth?" suggests patients assess the quality of their restorations by asking their dentist these four basic questions:
1. "Do you use a Certified Dental Technician for your laboratory work?"
2. "Is the laboratory you work with certified and by whom?"
3. "Where is your dental laboratory located?"
4. "What patient contact materials are in the restorations you are prescribing for the treatment plan?"
5. "How does your dental practice ensure that it is not using misbranded or grey market dental implant parts?"
###
About NADL:
The National Association of Dental Laboratories is the unified voice of the dental laboratory profession supporting dentistry and serving the public interest by promoting high standards. NADL accomplishes this by providing programs, services and networking opportunities to meet the evolving technical, educational, professional and business needs of dental laboratories. http://www.nadl.org