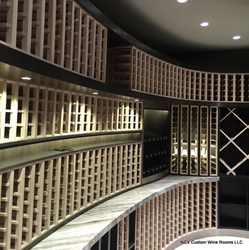 …I have seen many cellars, but Doc's work stood out for its distinctive organic form, unique layout, and dramatic lighting…provided a high visual impact....accent lights provided a path leading me further into my wine heaven…. Tom Dang, Home Builder
Houston TX (PRWEB) February 09, 2016
Wine racks and wine rooms can be more than dark woods, right angles and straight lines. Doc Watters, trained at the Art Institute of Chicago to be a sculptor, thinks about pattern, color, textures, lines, visual balance, materials and lighting when designing a wine room.
Custom wood wine racks are typically very traditional – straight lines, 90 degree angles, square openings, and usually dark woods. The racks normally follow the walls of the room and try to maximize all walls for storage. The designs of Doc Watters show that his approach is different – different woods, subtle lighting hidden in the racks, lots of curves that combine to hide the shape of the room and other design techniques that create something akin to art in the wine room.
NCV Custom Wine Rooms in Houston is proud to be the preferred supplier of Doc Watters wine racks in greater Houston, Austin and San Antonio.
"I am very proud of the racking selection that we offer our clients because of its quality and variety. The custom racks from Doc Watters provides our clients another level of design and product quality. One can think of our wood rack selections as automobiles. We offer the Bentley of custom racks – solid, gorgeous while understated, impeccable quality, and now we offer the Aston Martin as well – gorgeous, sexy, a bit racy, impeccable quality, not for everyone," said Jost Lunstroth of NCV Custom Wine Rooms.
"Our selection gives our customers a robust choice of high end custom wine racks. We have traditional type wood racks that are made with tongue & groove joinery by a small shop in Portland. We have the curved, modern look of the racks from Watters. We offer an attractive and functional metal storage system from Belgium as well as the gorgeous modern look of stainless steel cables," said Lunstroth. He designed and built custom wine rooms throughout Texas before creating the Nos Caves Vin, the wine storage business. One of his designs won a prestigious award for wine storage from Sub-Zero Wolfe in 2008.
For more information on NCV Custom Wine Rooms, and how they can meet the your wine collection or event needs, contact Jost Lunstroth, (713) 722-0181, jost(at)ncvwine.com