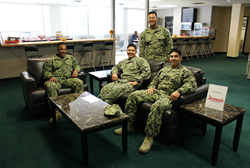 "Jerome's is very happy to support USO San Diego and add some additional comfort to those it serves."
San Diego, CA (PRWEB) February 08, 2016
Jerome's Furniture showed its support for local non-profit USO San Diego, donating a number of furniture pieces to replace aging furnishing at its downtown facility. The donated items included two loveseats and four chairs from the Samuel Collection and six Ferrera tables valued at $2,800.
"Jerome's is very happy to support USO San Diego and add some additional comfort to those it serves," stated Jim Navarra, Senior Vice President of  Jerome's Furniture. "We're always looking for opportunities to serve our community and continue to build stronger and richer relationships with local San Diego non-profits."
With Jerome's contribution, The USO Downtown Center, open 365 days of the year, will continue to support over 27,000 military personnel in San Diego. The center often hosts dinners with up to 215 people in attendance, putting to good use the donated furniture. With 11 stores spread throughout Southern California, Jerome's offers a wide variety of products from living and dining room furniture to mattresses and bedroom furniture all ready for same day and next-day delivery.
"We sincerely thank Jerome's for this kind and timely donation," said Arne Nelson, CEO of USO San Diego. "The USO San Diego Downtown Center supported over 27,000 military personnel in 2015. Due to the large amount of programs hosted at the Downtown Center, our furniture gets a lot of use."
About Jerome's Furniture
Jerome's Furniture was founded in 1954 by Jim & Esther Navarra, and is still owned and operated by the Navarra family. The 600-employee company features seven Navarra family members. Since 1970 locations have spread across San Diego to Chula Vista, San Marcos, El Cajon and Scripps Ranch. In 2005, the company streamlined its operations, opening a 450,000 square foot distribution center, and in the last few years has expanded outside the San Diego area into Murrieta, Corona, Rancho Cucamonga, South Bay/Torrance, Anaheim, and Laguna Hills. For more information, please visit Jeromes.com.