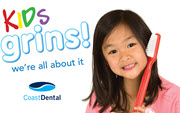 The number of children with cavities is on the rise.
Peachtree City, GA (PRWEB) February 08, 2016
Coast Dental has a new way to help parents keep their children's teeth healthy and cavity-free. February is National Children's Dental Health Month and family dentist Yvonne Dorrian, DMD, is hosting a free seminar on Friday, February 19 from 2 p.m. to 3 p.m. at Coast Dental, located next to Target at 1207 North Peachtree Parkway in Peachtree City. Dr. Dorrian will have healthy snacks, activities, and goody bags for the children and lots of good advice for parents. For more information or to RSVP, please call (770) 631-5062.
Dr. Dorrian provides family dental services to adults, teenagers, and children as young as five years old. She will share her Top 10 tips to keep teeth healthy, show the children a simple trick for brushing better, and demonstrate the best way to wiggle out a loose baby tooth. She will also teach parents how they can ensure their children are taking care of their oral health.
"The number of children with cavities is on the rise," said Dr. Dorrian, who has been practicing dentistry since 2003. "One in five children in elementary school has at least one untreated cavity. If it's not fixed, the decay will get worse and that could affect the child's ability to eat, speak, and concentrate on his or her schoolwork."
Fortunately, tooth decay is preventable. Parents and children will leave Dr. Dorrian's office on February 19 with easy-to-implement action steps that can make an immediate difference in their oral health. Call Coast Dental Peachtree City at (770) 631-5062 for more information.
# # #
About Yvonne Dorrian, DMD
Dr. Yvonne Dorrian earned her dental degree at Nova Southeastern University College of Dental Medicine in Ft. Lauderdale, FL. Dr. Dorrian is a member of the Georgia Dental Association, American Dental Association, and the Academy of General Dentistry.
About Coast Dental
Coast Dental of Georgia, P.C., with its professional associations, is one of the largest providers of general dentistry and specialty care in the United States with affiliated practices operating as Coast Dental and SmileCare in Georgia, Florida, California, Nevada and Texas. Coast Dental offers family dentistry services at all of its locations, plus many offices offer orthodontics, oral surgery, endodontics, and periodontics. Coast Dental Services, LLC is a privately-held practice management company that provides comprehensive, non-clinical business and administrative services to its affiliated practices. For more information and special offers, visit CoastDental.com.