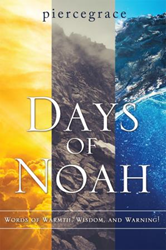 ... prepare people's hearts and minds for a true and genuine relationship with the Heavenly Father
Orange Park, FL (PRWEB) February 08, 2016
piercegrace's new book, Days of Noah - Words of Warmth, Wisdom, and Warning!, ($15.49, paperback, 9781498462105; $7.99, e-book, 9781498462112) is a thought-provoking anecdotal and analytical Biblical occasions that include missionary evangelistic journaling of educational, prophetic cautionary Biblical teachable moments and lessons – each guided by the leading of Hand of the Almighty Yahweh and the Holy Spirit. The book's "flavor" is an evangelizing focus likened to a Noah-event of preaching righteousness to everyone for personal and national Spiritual repentance and redemption toward wellness of body, mind, soul, and spirit. The book is advocating a most timely genuineness of seeking the ways and words of the Almighty Most High and Exalted One while there is still time to do so.
"I hope readers to seek the Almighty Yahweh in a refreshing heartfelt technique that would draw the person closer toward becoming an obedient humble clay vessel servant of the Creator and King of the universe," states the author. "As the reader gleans Holy Spirit Fruit from my book, he or she will be invigorated to see, believe, and receive the goodness of the Heavenly Father leading toward a repentance-filled salvation relationship with Him. I think this momentum of time writing of this book will better prepare people's hearts and minds for a true and genuine relationship with the Heavenly Father."
piercegrace is a servant of the Most High Exalted One advocating health and wellness of body, mind, soul, and spirit (1 Corinthians 6:19-20). She is founder and director of operations for Butterfly Journey Ministries (http://www.butterflyjourney.org), which is an international outreach ministry of preparing and equipping Almighty Yahweh remnant servants through the Internet, social media, and print. She began Biblical television ministry in New York that lead to radio Bible teaching and writing in Georgia. The Almighty Yahweh has directed her feet on the path of various ministries, one such as Doers of the WORD Bible Study and Fellowship.
Xulon Press, a division of Salem Media Group, is the world's largest Christian self-publisher, with more than 15,000 titles published to date. Retailers may order Days of Noah - Words of Warmth, Wisdom, and Warning! through Ingram Book Company and/or Spring Arbor Book Distributors. The book is available online through xulonpress.com/bookstore, amazon.com, and barnesandnoble.com.
Media Contact: piercegrace
Email: piercegrace(at)gmail.com