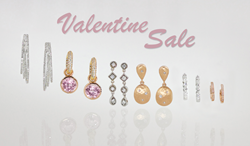 San Francisco, CA (PRWEB) February 05, 2016
This month, Union Street Goldsmith hosts their annual Valentine's Day Sale, featuring earrings at 25 percent off. This time around though, the sale will take place at the new location: 2118 Union St., San Francisco, Calif. 94123.
From Feb. 1-14, all earrings in the entire store are 25 percent off, not including diamond studs. Earrings can be the perfect Valentine's gift —a romantic gesture, or a sweet gift for a mother, daughter or special friend. Our wide selection of earrings gives shoppers a variety to choose from, ensuring the perfect find for their significant other.
Many of the earrings are in-house hand-crafted designs, so you won't find them anywhere else. Anyone can be sure that their earrings are unique and perfect just for them! Union Street Goldsmith also carries earrings designed by names like Guhan, Dilamani and Kurtulan. With a wide price range for these types of earrings, not only can the style be specified for the person, but the price range can be catered to anyone's budget.
Choose from a selection of gemstones, including fine sapphires in all colors, tourmalines, rubies, aquamarine, garnet and more. With great gem selections in addition to pave diamond earrings, it'll be impossible to leave this great holiday sale empty-handed.
For a February birthstone, all amethyst earrings are also 25 percent off to serve as perfect birthday gifts. For February birthday and Valentine's Day gifts, shop at Union Street Goldsmith's new store location for up 25 percent off on all fine earrings!
About Union Street Goldsmith:
Glenda Queen, with a background in arts and crafts, entered the jewelry business in 1964. After 11 years of making jewelry at McLeans in Sausalito, she and her partner, Terry Brumbaugh, opened Union Street Goldsmith. Queen chose a neighborhood she hoped would be a comfortable setting for her craftsmen as well as her clients and it worked. Brumbaugh, raised in the jewelry business, later became a gemologist. After an extensive period of travel, he joined with Queen to head up the Union Street Goldsmith sales staff. Brumbaugh has a rare gift in his memory of clients' collections, enabling him to design new pieces to fit his clients' special tastes and their collections. An excellent sense of style and fashion endows Brumbaugh with the ability to give valuable guidance to his clients in their jewelry selection, helping each one to create an overall special look within their collection.