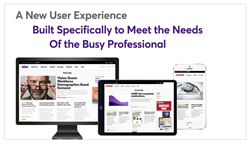 As a premium B2B network, technology is at the center of our strategy
(PRWEB) February 08, 2016
SourceMedia – a diversified digital media company serving senior professionals in the financial, technology and healthcare industries – today announces the launch of a new digital publishing platform, incorporating a fully redesigned user experience and state-of-the-art content management system.
The platform will support all SourceMedia brands, enabling deeper engagement among its professional communities across all content types and business lines. Among other things, it provides: a flexible and scalable development framework that supports the company's expansion, superior native advertising integration, an improved mobile user experience, and other features designed to integrate the company's content feeds, events and other services into the workflow of its audience.
The launch advances the strategic transformation of SourceMedia's portfolio of market-leading business brands, expanding a suite of best-in-class digital capabilities that harness its brands, market knowledge, and audience and client relationships to enable accelerated growth.
The first sites to go live on the new digital platform are Health Data Management, Employee Benefit News and Employee Benefit Adviser. The company's other brands will follow, including flagships American Banker, Financial Planning, and Accounting Today.
When fully deployed, the new web platform will unify all of SourceMedia's offerings and capabilities, including subscription information services, events, research and marketing solutions. The holistic approach will provide an enhanced 360-degree audience view, and related insights, that unlock new growth and development opportunities for the company, its subscribers, and its marketing clients.
In executing the project, the SourceMedia team worked in close collaboration with the design and development firms Perfect Sense Digital and Work & Co. The website and content management system were developed by Perfect Sense, based in Reston, Va. The user experience was designed by the Brooklyn-based digital agency Work & Co.
"As a premium B2B network, technology is at the center of our strategy," said Minna Rhee, SourceMedia Chief Digital and Marketing Officer. "We are actively developing our internal capabilities and evolving with new technologies that will drive on-going improvements to deliver more engaging user experiences while providing marketers with more innovative ways to reach their target audiences."
"This is a milestone for SourceMedia, enabling us to deliver on important operational priorities and product strategies," said David Longobardi, SourceMedia Chief Content Officer. "The editorial, creative and research teams will have a powerful digital toolset that lets them focus on what matters most – interacting with the communities we serve and delivering hard-hitting, mission-critical information and insights."
The platform incorporates new features and functionality that support the company's mission of delivering high-value content, engaging professional communities, and facilitating commerce:

Accessibility and engagement, as well as ad viewability, are enhanced by a cleaner, simpler interface, fully responsive design, and continuous scrolling page load capability.
The new platform is flexible and scalable, supporting future expansion, and enabling agile deployment of new products and development of downstream content applications – supported by a powerful content syndication engine and a granular taxonomy that spans all market communities.
Day-parting ensures users get the right information in the right format at the right time. An expanded content taxonomy, ubiquitous in the new UX, surfaces more (and more accurate) related content.
The platform incorporates a superior native advertising experience: with sponsor-commissioned articles, white papers, infographics and videos fully optimized for contextual discovery within the editorial experience without confusing readers.
ABOUT SOURCEMEDIA
SourceMedia, an Observer Capital company, is a diversified business-to-business digital media, marketing services, research and event company serving senior professionals in the financial, technology and healthcare sectors. Brands include American Banker, The Bond Buyer, Financial Planning, On Wall Street, Mergers & Acquisitions, Accounting Today, Health Data Management and Employee Benefit News and Employee Benefit Adviser.
ABOUT WORK & CO
Work & Co makes digital products and services that people use every day. Work & Co partners with some of the smartest brands in the world including Virgin America, Chase, Target, and YouTube. Work & Co has offices in Brooklyn, Portland, and Rio de Janeiro.
ABOUT PERFECT SENSE DIGITAL
Perfect Sense Digital is a full-service product company that capitalizes on its enterprise digital application development platform to drive innovations in web and mobile development for corporations worldwide. Perfect Sense originally created and now actively supports the Brightspot platform, which powers dynamic and highly engaging consumer experiences. Such leading corporations as Politico, Univision, US News and World Report, Scripps Networks Interactive, and many more have deployed the Brightspot platform to materially change the way they do business online.