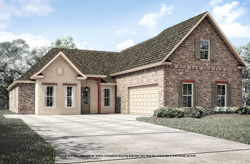 BATON ROUGE, La. (PRWEB) February 08, 2016
Level Homes, a fast-growing, top 200 home builder based in Baton Rouge, La., has closed on a major land acquisition for Bell Savagne, its upcoming new home community in Ascension Parish, La.
Considered by real estate experts to be one of the best residential sites in the area, the land was highly sought after and will be developed into 285 single-family home sites, ranging from 55 to 80 feet in width. The 80 foot lots are some of the largest residential home sites offered in the area.
The 112-acre site is conveniently located between Baton Rouge and New Orleans. With easy highway access to both Interstate 10 and Highway 73, the community will offer an ideal location for homeowners who work in either city.
"At Level Homes, we know that great communities start with the right land, in the right location, with the right amenities and the right homes," said Todd Waguespack, Managing Partner of Level Homes.
"For several years, our team has worked to build our vision for the Bell Savagne new home community and to acquire this outstanding site," said Waguespack. "We're thrilled to move forward with the acquisition of this prime land and to make that vision a reality," Waguespack added.
Bell Savagne will feature a state-of-the-art clubhouse, swimming pool and an inviting walking path, as well as stunning home designs and open floor plans that reflect the way homeowners live today.
Located in a desirable area of Prairieville in Ascension Parish, the new community will also be near the highly rated Dutchtown High School.
With base prices ranging from $240,000 to more than $380,000, the homes in Bell Savagne will be built by Level Homes. A model home will showcase the builder's award-winning architectural and interior designs, as well as the many exciting options and upgrades that homebuyers can select to further personalize their new home.
Founded in 2000, Level Homes builds homes in the Raleigh, North Carolina area, in addition to Baton Rouge. With the goal of becoming a Top 10 builder in market share in each market it serves, Level Homes is expanding.
Under Waguespack's leadership, Level Homes was recognized in 2015 by BUILDER Magazine as one of the Top 200 Builders in the United States. With 144 home closings in 2014 and $50 million in revenue, Level Homes ranked 182 on BUILDER's 2015 list. That represents a substantial gain from 2014, when the fast-growing firm recorded 130 closings and revenues of $37 million to rank 195th.
In 2015, Level Homes was also ranked 7th in on the list of Best Small-to-Midsize Places to Work in Baton Rouge by Business Report Magazine.
Visit http://www.levelhomeslifestyle.com/ to learn more about Level Homes, its award-winning new homes and communities, and the firm's unique approach to building "Life. Style. Home."