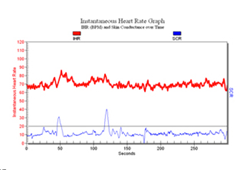 "Heart rate variability measures a person's ability to adapt to stress by measuring the hearts flight or fight stress response." -Dr. Allen Miner
Albuquerque, NM (PRWEB) February 09, 2016
February is Heart Awareness Month, and to celebrate Health Quest Chiropractic is donating the proceeds from its Heart Rate Variability scans throughout the month to the American Heart Association, New Mexico chapter.
A Heart Rate Variability (HRV) scan is one way to spot the first signs of heart disease and Health Quest's INSiGHT Pulse Wave Profiler utilizes a non-invasive technology to determine a heart's ability to change speed – and determine stress.
"February is the month to get a heart rate variability scan done. High levels of sympathetic stress are early warning signs for heart issues, and most medical doctors do not perform heart rate variability studies," said Dr. Allen Miner, Executive Board Member for the American Heart Association, New Mexico Chapter, and President/CEO of Health Quest Chiropractic in Albuquerque, New Mexico. "Chiropractors utilizing HRV often see the first signs of heart issues," Miner said.
Health Quest uses the Space Foundation-certified INSiGHT Pulse Wave Profiler that helps chiropractors assess and monitor the impact of stress on patients through Heart Rate Variability (HRV) readings.
By measuring a patient's HRV, a chiropractor can determine heart damage done by stress and doctors like Miner can devise treatment plans that combine proper nutrition, exercise and chiropractic adjustments to help patients live life to the fullest.
Cardiologists have used HRV results to monitor patients' overall wellness. Now, this powerful tool is available for chiropractors as well. Health Quest expects to share the proceeds from dozens of HRV scans with the New Mexico chapter of the American Heart Association.
"Important studies in the field of cardiology and psychology have confirmed the value of HRV in monitoring the adaptability of individuals," Miner said. "February is Heart Health Awareness Month and a Heart Rate Variability scan provides a functional measurement into heart issues related to stress," Miner said.
About Heath Quest Chiropractic:
Dr. Allen Miner founded health Quest in 2003. Health Quest's aim is to make high-quality, and cutting-edge, treatments easy to access. Health Quest's treatments are designed to help your central nervous system function at its highest level.
Find us at http://www.newmexicochiro.com.