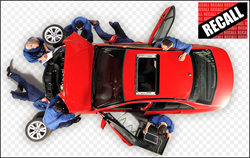 "Automating the identification of open safety recalls is a natural and vital step in preparing cars for sale. We chose AutoAp based on their highly accurate recall data and proprietary daily verification processes" - Rapid Recon CEO, Dennis McGinn
Portland, ORE (PRWEB) February 08, 2016
Rapid Recon, Inc. provides Dealerships with a time-to-market solution that connects every step in the reconditioning process so that cars can move from start to finish in 3-5 days.
"Automating the identification of open safety recalls is a natural and vital step in preparing cars for sale. We chose AutoAp, Inc., based on their highly accurate recall data and proprietary daily recall verification processes" - Rapid Recon CEO, Dennis McGinn.
Under license from AutoAp, Rapid Recon's Open Safety Recall Management (sm) solution dynamically updates the safety recall status of vehicles in inventory inside of their reconditioning software, and will identify open safety recalls from the first time the car enters inventory until the car is sold.
Dealers can reduce recall liability; increase warranty revenue; improve customer safety; enhance market differentiation; optimize service bay utilization and reduce overhead costs, by Identifying recalls on their in-brand and off-brand vehicles every day.
Continuing Market Problem – A record 803 safety recalls were issued in 2014, affecting just under 51 million vehicles*. 2015 safety recall numbers outpaced 2014, with 900 safety recalls involving more than 51 million vehicles, according to the National Highway Traffic Safety Administration.
Dealers Are At Risk - As a result of these historically-high numbers, vehicle safety recalls have gained significant media attention and consumer safety risk is at an all-time high. Although manufacturers and their suppliers are the source of vehicle defects, auto dealers are being held liable for selling vehicles with open safety recalls, and pre-owned vehicles with open safety recalls may be the most significant legal exposure that a dealership has today.
"Feedback from dealers is very positive, and demand is strong. Our Dealers are finding safety recalls earlier, which helps make their process more efficient" - Rapid Recon CEO, Dennis McGinn.
Current Sources Have Significant Errors – Dealers who use SaferCar.gov to verify the safety recall status of off-brand vehicles put themselves at risk from the many "false negatives" from NHTSA's site, and spend extra time doing so. Vehicle history reports can also misidentify vehicles' safety recall status, and timing issues between the OEMs, NHTSA and dealers create delayed and often inconsistent recall status, which further increases dealers' liability and reduces consumer safety.
"Dealerships find it difficult to stay on top of safety recalls, due to the size and complexity of the problem. With our proprietary processes, AutoAp generates the most-accurate, multi-brand safety recall status available, anywhere. We are excited to partner with Rapid Recon, so that we can reach more dealers even faster to help address this significant problem" - AutoAp, Inc. CEO, Mark Paul.
AutoAp's Safety Recall Management technology can be purchased as standalone dealer solutions to generate revenue and decrease liability during vehicle acquisition; for vehicles in inventory; for sold-customer recall service; or as integrated into third-party dealer service provider solutions like Rapid-Recon's vehicle reconditioning solution.
*Adjusted from earlier 2014 NHTSA-published recall statistics of 63.9 million vehicles affected by safety recalls.
# # #
AutoAp, Inc., Beaverton, Oregon - Is an automotive software solution provider focused on bringing innovative, patents-pending safety recall management solutions to organizations involved in vehicle ownership, purchase, sale, service, finance and fleet management.
Contact: Ross Macdonald, CMO
press(at)autoap.com
503-951-6152
http://www.autoap.com
Rapid Recon, Inc., Palo Alto, California - is an on-line reconditioning workflow solution that builds on existing processes, establishes start to finish transparency, eliminates unnecessary tasks, shortens time-to-market and delivers additional inventory turns for auto retailers.
Contact: Dennis McGinn, CEO
info(at)rapidrecon.com
650.322.0600
http://www.rapidrecon.com