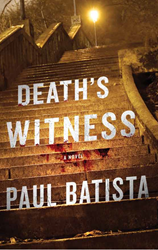 Death's Witness is Exhibit A for the proposition that Batista is as much a winner at writing as he is at defending.
Longboat Key, FL (PRWEB) February 07, 2016
The Story:
Prominent defense attorney murdered in Central Park—A random attack, or part of a wider conspiracy?
When Tom Perini, a legendary Heisman Trophy winner turned criminal lawyer, is found brutally murdered in Central Park, his widow Julie Perini suspects a wider conspiracy. Not only was her husband part of the defense team for a Congressman on trial for bribery, her intuition also tells her that the FBI is not too eager to find the killer.
Relying on her skills as a journalist, Julie begins her own investigation and soon discovers her late husband's secret underworld associations; ties that now threaten her and her toddler's lives. Fighting grief and a sense of betrayal, Julie is pulled into an inescapable labyrinth of organized crime dealings, political corruption, brutal power grabs and murder.
Desperate, Julie turns to Vincent Sorrentino, Tom's defense partner, for help, and the two discover a shocking and terrifying truth that threatens to paralyze them. But it may also hold the key―the only key―to saving the lives of Julie and her daughter.
About Paul Batista:
Paul Batista, author and television personality, is one of the most widely known trial lawyers in the country. As a trial attorney, he specializes in federal criminal litigation. As a media figure, he is known for his regular appearances as guest legal commentator on a variety of television shows including,Court TV, CNN, HLN and WNBC. He's also appeared in the HBO movie, You Don't Know Jack, starring Al Pacino.
A prolific writer, Paul Batista authored the leading treatise on the primary federal anti-racketeering statute,Civil RICO Practice Manual, which is now in its third edition (Wiley & Sons, 1987; Wolters Kluwer, 2008). He has written articles for The New York Times, The Wall Street Journal, and The National Law Journal.
Paul Batista's debut novel, DEATH'S WITNESS, was awarded the Silver Medal by the Independent Book Publishers Association (IBPA). Paul Batista is a graduate of Bowdoin College, where he was elected to Phi Beta Kappa, and Cornell Law School. He's proud to have served in the United States Army. Batista lives in New York, City and Sag Harbor, New York.
Critical Praise for DEATH'S WITNESS:
"Batista, in a word, is wonderful here, guiding his readers skillfully and assuredly through a complex plot. Death's Witness is Exhibit A for the proposition that Batista is as much a winner at writing as he is at defending."
—Joe Hartlaub, Bookreporter
"This well-crafted legal thriller has the feel of the real, because it was written by a first-rate lawyer who is also a very good writer."
--Alan Dershowitz, author of Preemption: The Knife That Cuts Both Ways
"A spectacular new addition to the legal thriller genre. Fast, smart and exciting, with richly drawn characters and a race-horse pace. Death's Witness is definitely a winner!"
--Jack Ford, Good Morning America anchor.
"The verdict on Batista's debut legal thriller: Guilty of delivering not only sharp courtroom drama but steamy romantic escapism as well. Vincent Sorrentino, a crackerjack Manhattan DA (not unlike Batista, a commentator on Court TV), is leading the legal team for 14 defendants accused of bribing Congressman Daniel Fonseca, including Selig "Sy" Klein, owner of a shady trucking empire personally represented by Sorrentino's colleague and friend, Tom Perini, a former Heisman Trophy winner. Tom's murder while running in Central Park shatters his wife and toddler's world and almost lands Fonseca a mistrial. Grieving Julie Perini suffers more shocks as she learns about her husband's secret underworld association connected to the ongoing trial. Batista provides a gripping, if sometimes confusing, insider look into the seamy side of justice and the politics behind criminal shenanigans. The sweet resolution might feel too good to be true, but is still satisfying."
--Publisher's Weekly