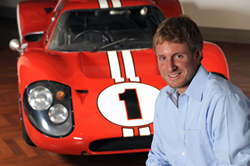 His passion for fueling innovation in his current role and appreciation for the institution will help strengthen the focus of our mission and provide immense guidance
Dearborn, Mich. (PRWEB) February 08, 2016
Henry Ford III, Marketing Manager for Ford Performance, has been elected to serve a three-year term as a member of the Board of Trustees at The Henry Ford. Ford joins 19 other business, civic and education leaders on the institution's board.
"We are thrilled to welcome Henry Ford III to our Board of Trustees," said Patricia Mooradian, president, The Henry Ford. "His passion for fueling innovation in his current role and his appreciation for the institution will help strengthen the focus of our mission and vision, and provide immense guidance for us as an organization."
Currently Ford is the Marketing Manager for Ford Performance, the company's performance team whose mission is to fuel innovation and passion for Ford, on and off the road. Prior to relocating back to Michigan, Henry was based in Irvine, California as the Lincoln Sales and Marketing Manager for the West Region, helping the Lincoln brand grow its presence in luxury markets. He joined Ford Motor Company in 2006 in Labor Relations as a member of the national negotiations team working on the collective bargaining agreement between Ford and the UAW.
Prior to joining Ford Motor Company, Ford taught English and math at schools in Alexandria, VA and Zermatt, Switzerland. In addition to serving on The Henry Ford's Board of Trustees, he is also on the Board of Trustees of Liggett School and on the Board of Advisors of Bridging Communities, Inc.
As a board member for The Henry Ford, Ford joins Chairman of the Board S. Evan Weiner, Vice Chairman Gerard M. Anderson, Vice Chairman Sheila Ford Hamp, President and Secretary Patricia E. Mooradian, Treasurer Lisa A. Payne and Trustees Lynn Ford Alandt, Paul R. Dimond, Edsel B. Ford II, William Clay Ford, Jr., George F. Francis III, Ralph J. Gerson, Christopher F. Hamp, Steven K. Hamp, John W. Ingle III, Elizabeth Ford Kontulis, Richard A. Manoogian, Hau Thai-Tang, Alessandro F. Uzielli and Ambassador Ronald N. Weiser.
About The Henry Ford
The Henry Ford in Dearborn, Michigan is an internationally-recognized history destination that explores the American experience of innovation, resourcefulness and ingenuity that helped shape America. A national historic landmark with an unparalleled Archive of American Innovation, The Henry Ford is a force for sparking curiosity and inspiring tomorrow's innovators. More than 1.7 million visitors annually experience its five attractions: Henry Ford Museum, Greenfield Village, The Ford Rouge Factory Tour, The Benson Ford Research Center and The Henry Ford Giant Screen Experience. A continually expanding array of content available online provides anytime, anywhere access. The Henry Ford is also home to Henry Ford Academy, a public charter high school which educates over 500 students a year on the institution's campus. In 2014, The Henry Ford premiered its first-ever national television series, The Henry Ford's Innovation Nation, showcasing present-day change-makers and The Henry Ford's artifacts and unique visitor experiences. Hosted by news correspondent and humorist, Mo Rocca, this Emmy®-winning weekly half-hour show airs Saturday mornings on CBS. For more information please visit our website thehenryford.org.