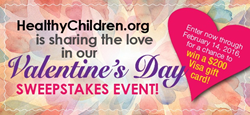 Chicago, IL (PRWEB) February 08, 2016
HealthyChildren.org, the official American Academy of Pediatrics (AAP) website for parents, celebrates Valentine's Day by giving away $200 Visa gift cards to seven lucky winners. Registered users of HealthyChildren.org may enter once each day during the event which runs February 8 through February 14, 2016. Winners will be announced in March 2016. Full contest rules are available on https://www.healthychildren.org/sweeps.
About HealthyChildren.org
The only parenting website backed by 64,000 AAP member pediatricians, HealthyChildren.org offers trustworthy, up-to-the-minute health advice and guidance for parents and caregivers, along with interactive tools and personalized content. Registered users enjoy a customized home page that features articles geared to the ages of their children as well as a free bi-weekly e-newsletter. The site also offers a Find a Pediatrician service, an Ask the Pediatrician tool, our KidsDoc Symptom Checker, and nearly 4,000 articles on children's health and safety.