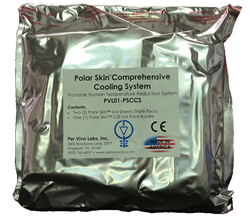 Immediate intervention is imperative. It's in this space that the Comprehensive Cooling System is essential.
Kingsport, TN (PRWEB) February 07, 2016
Per Vivo Labs, Inc., is excited to announce that this week a team of scientific researchers, led by Dr. Brent Ruby, Ph.D., FACSM, released the findings from human testing conducted with the Polar Skin Comprehensive Cooling System. The Comprehensive Cooling System is one in a family of products designed and manufactured by Per Vivo Labs for the timely and effective treatment of heat-related illnesses.
The testing and data analysis, conducted over an eight week period from November to January, was designed by Ruby, Director of the University of Montana's Center for Work Physiology and Exercise Metabolism, and his colleagues at PhysioZing, LLC. The goal of the study was to determine the Comprehensive Cooling System's optimal configuration, protocol for use, and overall efficacy. From the study, Ruby and his team determined that the Comprehensive Cooling System consistently reduces core temperature at a rate of .09 degrees Fahrenheit per minute in 102 degree Fahrenheit heat with 40 percent relative humidity. According to Russ Hubbard, Per Vivo Labs' President and Founder, "We couldn't be more pleased with the results. We knew we had a solid product, and our customers, including the Department of Defense, have had great success using previous versions. This said, we constantly strive to deliver the finest products possible to our customers. To do this we needed the expertise Dr. Ruby and his team provide to better understand how the Comprehensive Cooling System is best configured and utilized, and to quantify its utility in terms of core temperature reduction in individuals with heat-related illnesses."
Annually, heat-related illnesses impact millions worldwide. In the United States alone, more than 250 people die each year as a result of heat-related illnesses. Despite this, there is an alarming dearth of formal treatment options. Cold Water Immersion (CWI) is widely accepted as the "gold standard" for treatment, however, this method is relatively cumbersome, resource intensive, and impractical in many setting where heat-related illnesses occur. "The goal should always be CWI," Hubbard said. "All evidence points to its preeminence. But this doesn't mean that you do nothing until you can immerse a patient in pool of ice water. Delays resulting from the proximity of CWI resources to the casualty are catastrophic. Immediate intervention is imperative. It's in this space that the Comprehensive Cooling System is essential."
To achieve wider distribution of their products, Per Vivo Labs partnered with North American Rescue, LLC this past spring. Sean Hevey, Per Vivo's Vice President of Operations stated, "This partnership has been essential in bringing our lifesaving solutions to the marketplace. North American Rescue has a long history providing unparalleled resources to the military and first responder communities. We're confident that the capability NAR [North American Rescue] brings with them will help us expand our market penetration and better serve our customers. The Comprehensive Cooling System is to heat-related illnesses what the Automated External Defibrillator is to cardiac events; a simple and effective, lifesaving solution that can be used by anyone. The more ubiquitous the CCS is to athletic fields, the workplace, emergency medical services, and any environment where heat is a concern, the more lives will be saved."
A copy of this study can be found on Per Vivo Labs' website: http://www.pervivolabs.com/polar-skin-human-testing/