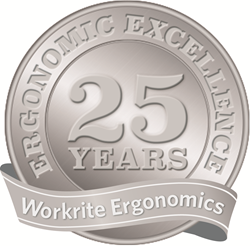 We have every intention of continuing to build on our success for the next 25 years and beyond.
Petaluma, CA (PRWEB) February 10, 2016
Workrite Ergonomics, who is celebrating their 25th year of business in 2016, is a California based company that has evolved from humble beginnings to being an internationally recognized leader in their industry.
"We are very proud of our heritage and of the company that we are today", said Charlie Lawrence, President of Workrite. "Workrite recognized the importance of good ergonomics before most of our competition even knew the definition of the word."
Workrite was founded in 1991 by entrepreneurs Ray Hendricksen, Tom James, and Brenda Hartley. The company initially operated out of Mr. Hendricksen's garage but quickly outgrew the garage and relocated to a facility in downtown Novato during September of 1992. Their only products were a WristRester and a Footrest.
In 1993, an order for 500 WristResters was sold to a nationally recognized insurance company based In Bloomington, IL and Workrite experienced explosive growth. Between 1994 and 1996, the company made 3 appearances on a list recognizing the San Francisco Bay Area's 150 fastest growing, privately held companies.
The next few years were wildly successful and Workrite appeared on the Inc. 500 list, recognizing them as one of the fastest growing companies in the U.S. They also introduced many industry firsts including the first track-mounted dual arm designed to store under the worksurface, MonitorMovers support arm for CRTs, and the patented BananaBoard, which is still a top selling product for the company today.
In the late 1990's Workrite added the PowerLift sit stand mechanism to their offering and introduced their first electric height adjustable table. Since then, the company has introduced hundreds of new products, including the industry's first BIFMA rated electric height adjustable workcenter, and has developed a strong reputation for providing great quality and superior customer service. In 2001 the company moved to Petaluma, consolidating all operations including marketing, administration, manufacturing and distribution into one facility.
"We have every intention of continuing to build on our success for the next 25 years and beyond", said Lawrence, "and the best way to accomplish that will be to maintain focus and continue doing what we have always done so well - finding new ways to improve the lives of the people who use our products."
About Workrite Ergonomics, LLC
Workrite Ergonomics is an internationally recognized industry leader in the design, manufacture and distribution of height-adjustable workcenters and ergonomic office accessories, including adjustable keyboard platform systems and flat panel monitor support systems, and task lighting.
Workrite Ergonomics is based in Petaluma, California and has been owned by private equity investors since the original owners retired in 2002. The company is represented across the United States and Canada by a broad network of highly professional sales associates. For more information on Workrite Ergonomics' products, please visit http://www.workriteergo.com.