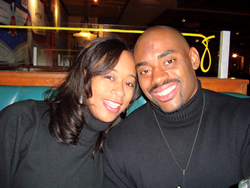 Team Draft is dedicated to raising lung cancer awareness and increasing research funding through its Campaign To Change The Face of Lung Cancer
San Francisco, CA (PRWEB) February 06, 2016
Team Draft is sending lung cancer survivor advocates to the Super Bowl, Pro Bowl, and the Taste of the NFL. These survivor advocates are winners of Team Draft's second annual Lung Cancer Survivors Super Bowl Challenge—a unique fund raising challenge to raise funds for public awareness and cutting-edge research that is giving new hope to those battling this often misunderstood disease. Survivor advocates who raise more than $1,000 during the Super Bowl Challenge may commit half of the funds they raise to a lung cancer organization or cancer center of their choice. The other half goes to support Team Draft's mission to change the face of lung cancer.
Founded by veteran NFL linebacker and former Carolina Panther Chris Draft and his late wife Keasha, who died of lung cancer in 2011 at the age of 38, Team Draft is dedicated to raising lung cancer awareness and increasing research funding through its Campaign To Change The Face of Lung Cancer, which is committed to shattering the misconception that lung cancer is a "smoker's disease." The centerpiece of Team Draft's Campaign is its annual Lung Cancer Survivors Super Bowl Challenge.
"The Super Bowl Challenge achieves some amazing things in terms of public awareness and changing perceptions about lung cancer," says Dr. Ross Camidge, the Director of Thoracic Oncology at Colorado University Cancer Center.
This year's top Super Bowl Challenge fundraiser is Kim Ringen, a veterinary oncologist from Denver, Colorado.. Kim and her husband Davin will represent Team Draft at Super Bowl 50 and the 25th Annual Taste of the NFL.
"The Super Bowl Challenge gave me a gift," says Kim. "On the opening day of the Challenge, my health declined and I was hospitalized. Rather than lying in the hospital bed wondering if I was going to make it through, we were on our phones launching our campaign via social media, spreading the word about the importance of research funding." Kim has committed 50% of the money she raises to the Lung Cancer Fund of Colorado.
Super Bowl Challenge runner-up Kathy Weber and her family represented Team Draft at the Pro Bowl in Hawaii. Kathy, a neonatal nurse practitioner and figure body builder from Kiowa, Colorado, was diagnosed with lung cancer in 2014. After having the upper lobe of one of her lungs removed, she is now cancer free.
"I still struggle with breathing when I work out, but continue to push myself in the gym," Kathy says. "I believe that my physical health and strength contribute to my well-being and helped me with my recovery."
Half of the money she raises during the Super Bowl Challenge will go to the International Association for the Study of Lung Cancer.
As the third place finisher in the Super Bowl Challenge, Elizabeth Dessureault and her husband Dax joined Team Draft at the 25th Annual Taste of the NFL, a gala event the night before the big game. At this strolling food and wine festival, They savored dishes prepared by some of the top chefs in the country while rubbing shoulders with legendary players from all 32 NFL teams before enjoying a private concert by Third Eye Blind.
Dessureault's lung cancer , which can be treated with a pill,,is attributed to a rare genetic mutation. The treatment has shrunk her tumor by almost 50%. Pregnant when she was diagnosed with lung cancer , she has since given birth to a son and continues targeted cancer therapy. She endorses Team Draft's commitment to funding research.
"Had it not been for this research and innovation, I would not be where I am today." Elizabeth has committed 50% of the funds she raises during the Super Bowl Challenge to Lung Cancer Canada.
"We are proud to honor these outstanding survivor advocates who are changing the face of lung cancer," Draft says. "The Super Bowl is a fitting time to spotlight the crusade to change the face of lung cancer. The level of commitment, drive and passion required to make it this far parallels the efforts required to get lung cancer research the next level."
But for Draft, the Super Bowl Challenge is also intensely personal.
"The day my wife was diagnosed with lung cancer, she made the decision to live each day to the fullest," he says. "When you're in what is literally a life and death struggle like Keasha and I were in, you realize that moments matter,"—moments like the trip Chris and Keasha took to Dallas to watch the Super Bowl shortly after her diagnosis. "It was something she had always wanted to do," says Draft, "and being with her at that game is a memory I will cherish forever."
Now, Team Draft is giving other lung cancer survivors and their families the opportunity to create similar memories through the Super Bowl Challenge.
"It takes a team to tackle cancer, and thanks to committed survivor-advocates like Kim, Kathy and Elizabeth, and all those who are participating in the Super Bowl Challenge, we are building a championship team," Draft says. To learn more about Team Draft, share your story, or make a donation, please visit http://www.teamdraft.org.