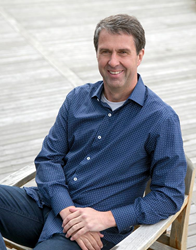 "The first step in fighting partisan and electoral apathy is finding a civic passion, because what moves you to give your time will ignite and inform your political perspective."
Dallas, TX (PRWEB) February 08, 2016
Robbie Bach helped guide the evolution of gaming for more than a decade as Microsoft's former President of Entertainment and Devices and Chief Xbox Officer. Now, he's turned his career inside out, translating business tenets into a powerful model for driving sustainable change in civic institutions, corporate entities and communities, and just in time for the primaries, he's offering actionable advice to help citizens and aspiring activists effectively engage in the political process.
Through his book, Xbox Revisited: A Game Plan for Corporate and Civic Renewal (Brown Books Publishing Group), Bach shares his own compelling journey as he introduces a fresh approach to complex political and social issues, based on his transformational methodology, the 3P Framework of Purpose, Principles and Priorities developed by the Xbox team. Following appearances on Forbes, Bloomberg Television, CNBC, CNN, and more, the author is expanding his mission to rally the "silent majority" to become "civic engineers."
"The first step in defeating political or partisan apathy and fighting election season fatigue is finding a civic passion, because what moves you to give your limited personal time will ignite and inform your political perspective." begins Bach. "Addressing complex issues actually requires radical simplicity. So once you understand the issues you care about most, initiate the 3P process by creating a single sentence purpose statement that will act as your compass in evaluating candidates.
"Then, turn your attention to the local or national lawmakers most likely to influence your area of concern, and address the following basic questions for each candidate: 'Can you identify at least five of their core issues, and have they readily articulated potential solutions? Do they remain emphatic on these priorities, or do they shift their messaging depending on the audience? What motivates them and drives their decision making? What beliefs are integral to their stated principles?'
"Evaluating their principles and priorities – also elements of the 3P Framework – can yield great insight into where a candidate really stands and how closely that reflects your points of view. Finally, match your personal objectives against your assessments of the relevant individuals or organizations; select the person, party or philanthropy that best aligns with your mission and get active as soon as possible.
"With this information at the ready, you'll have everything you need to fulfill the most basic of civic obligations – to vote. And not just in the final elections, but in the primaries as well. Voting is just the starting point for becoming an active, effective 'civic engineer.'"
To schedule an interview, submit a media inquiry or learn more about the author's strategies for civic engagement in the 2016 elections, contact Cathy Williams at The Agency at Brown Books: 972-248-9500, cathy.williams(at)theagencyatbrownbooks.com.
Robbie Bach joined Microsoft in 1988, working in various executive, leadership and management roles during 22 years with the company. As Chief Xbox Officer, he led the creation and development of the Xbox business and many of its successor products. He retired in 2010 as Microsoft's President of the Entertainment and Devices Division, and in his new role as civic engineer, Bach serves on the national board of governors for the Boys and Girls Clubs of America. He is also a board member of the United States Olympic Committee, Sonos Inc., Year Up and local chapters of the Boys and Girls Clubs. Bach is a regular guest lecturer at universities nationwide, as well as a writer on business and civic issues; all profits from his writing and speaking activities are donated to charity. http://www.robbiebach.com
The Agency at Brown Books is a full-service public relations, marketing and branding firm within a publishing house. As a subsidiary of Brown Books Publishing Group (BBPG), The Agency is backed by 20 years of excellence and experience, and the one-of-a-kind, integrated platform is available to BBPG' affiliates, as well as non-affiliated authors, established writers, entrepreneurs, CEOs and anyone seeking smarter strategies for building their business. http://www.theagencyatbb.com