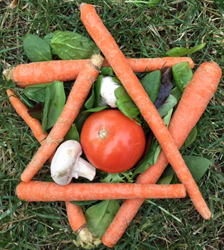 We're excited to partner with Sim Shalom and reach people around the world with our simple message: Cut out meat, one day a week for your health and the health of the planet -Meatless Monday Founder, Sid Lerner
New York, New York (PRWEB) February 08, 2016
Sim Shalom, the online synagogue, already considered the greenest of synagogues with no commuting required, joined the international Meatless Monday campaign, its latest calling to protect G-d 's creation. Tikkun Olam, to repair the world, is at the core of Sim Shalom's tenets and its Meatless Monday commitment. The goal is to cultivate an understanding of Jewish environmental responsibility and foster participation. The Meatless Monday Campaign was launched in association with Sid Lerner and the Johns Hopkins School of Public Health in 2003 as an international effort to protect personal health and the health of the planet. It is endorsed by universities, hospitals, municipalities and restaurants around the world, from United States to Israel to Australia.
Sim Shalom is the first global Jewish religious institution based in the United States to join and hopes that others will follow suit. By partnering with the Meatless Monday Campaign, Sim Shalom is taking the lead in using their online religious presence and global community to subscribe to a Meatless Monday pledge and to celebrate Judaism's roots deep in tradition of environmental stewardship. Meatless Monday founder Sid Lerner said, "We're excited to partner with Sim Shalom and reach people around the world with our simple message: Cut out meat, one day a week for your health and the health of the planet!"
Although admittedly the online synagogue was not set up as an environmental construct, the platform has helped to alleviate auto carbon emissions by providing an opportunity to attend daily services without driving. A study from the Environmental Working Group showed: If your four-person family skips meat and cheese one day a week, it's like taking your car off the road for five weeks – or reducing everyone's daily showers by 3 minutes. Read more here. By partnering with the Meatless Monday Campaign, Sim Shalom seeks to rein in man-made greenhouse gas emissions which contributes to climate change worldwide. Livestock production generates more greenhouse emissions than transportation.
According to Rabbi Nancy Tunick, "As Jewish citizens of the world, it is incumbent upon us to act. Eliminating meat one day a week is one very simple way to protect the environment, help our bodies, which is also a gift from G-d, and reach towards righteousness."Rabbi Steve Blane, shares the commitment to an intentional earth friendly diet. Part of the coursework in the Sim Shalom rabbinical program, Jewish Spiritual Leaders Institute, is a discussion on Eco Kashrut.
Recipes and the pledge link will be featured on the Sim Shalom Facebook page every Monday. Recipes are inclusive for Kosher observant and will reflect special recipes for the Jewish holiday calendar. Followers are welcomed to share their favorite vegetarian recipes. The effort will incorporate dialogue from various texts to connect the religious perspective within Sim Shalom's interactive online services throughout the year. A virtual online vegetarian Passover service is planned for April, where the Seder plate will be celebrated with beets instead of the traditional shank-bone that represents the sacrificial lamb. The bloody color of the beets will be symbolic. The pledge link will soon be available on the Sim Shalom site and is currently accessible at the Meatless Monday Initiative website here.
Of course if congregants would like to embrace meatless Tuesday through Sunday that would be even more of a mitzvah.
About Sim Shalom and JSLI:
Sim Shalom is an interactive online Jewish Universalist synagogue which is liberal in thought and traditional in liturgy. Created in 2009 by Rabbi Steven Blane on Manhattan's Upper West Side, Sim Shalom offers a means of connecting the unconnected. Rabbi Blane leads accessible and short Kabbalat Shabbat services every Friday night using a virtual interface and additionally Sim Shalom provides online education programs, Jazz concerts, conversion and life-cycle ceremonies along with weeknight services at 7:00PM EST led by Rabbis and students of this online community.
Rabbi Blane is also the Founder and Dean of the Jewish Spiritual Leader's Institute,
http://www.jsli.net, a rabbinical school for professionals.
Sim Shalom, a non profit 501 © (3) tax-exempt organization, nurtures a Jewish connection through its mission of innovative services, creative education and dynamic outreach to the global community. For more information visit http://www.simshalom.com or call 201-338-0165