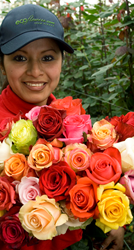 Eco-Flowers say I care about you, our earth and the people grew these beautiful flowers for you.
Altamonte Springs, FL (PRWEB) February 09, 2016
Organic Bouquet is celebrating our 15th Valentine season in business as a leader in the eco-friendly floral industry. As a pioneer of certified floral production, Organic Bouquet has seen the industry grow from an unregulated addiction to synthetic chemicals to a more responsible conscience group of certified farms using organic methods to address a variety of growing inputs.
Since our initial funding of the Veriflora standard for sustainable floriculture in North America over 20,000 acres of production in the US and South America has been transitioned into certified sustainable production. Certified farms are audited by third party agencies such as Veriflora.Org, Fair Trade, USDA and Rainforest Alliance and adhere to rigorous standards of not only environmental issues but social benefits for the workers as well.
This year Organic Bouquet will expand into national retailers through a growth strategy to help increase the consumer awareness of the benefits of growing sustainably. Organic Bouquet has a loyal customer base online and is now reaching new consumers in their local grocery stores and farmer's markets offering consumers a choice when buying flowers as a gift. We have partnered with Xtranet Solutions, LLC a retail solutions technology provider to offer large supermarket chains Consumer Engagement Devices for supermarket floral shops. These touchscreen devices allow shoppers to interact digitally and access information and care instructions for certified flowers as well as send floral gifts nationwide.
Organic Bouquet the largest online florist to offer exclusively certified sustainable floral products is ready to ship fresh sustainable roses nationwide this holiday week. Over $2 Billion in flowers will be sold for Valentines this year in the U.S. with 80% of these flowers coming from Colombia and Ecuador.
CEO Robert McLaughlin says: More and more consumers want to know the products they buy are produced on farms that care for the environment, they want to know workers are properly trained in safe working conditions and they want to know workers are paid fair livable wages. Now more than ever consumers are choosing brands that share these environmental and social values.
For Valentines this year http://www.organicbouquet.com offers the highest quality long stem roses in every color, mixed bouquets and fragrant lilies.
This year we hope consumers will give the flowers that say "I care about you, our earth and the people grew these beautiful flowers for you this Valentines Day".
Organic Bouquet started in 2001 to build this market and was instrumental in creating the first sustainability standards. In the past 15 years many other standards have been developed to address social and environmental impacts of farming flowers. We're very proud to have been and continuing to be pioneers and champions of these standards and we hope consumers will continue to look for companies that share their values by purchasing products made by "People that Matter" in farms or factories in the United States and globally.