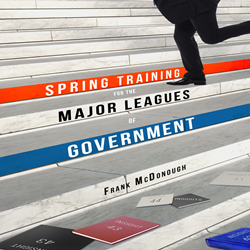 "Frank McDonough, has the domestic and international experience to write Spring Training for the Major Leagues of Government to help high-level officials to survive and thrive in high-level government jobs.—Martha Dorris
(PRWEB) February 23, 2016
Frank A. McDonough announces the publication of his book, "Spring Training for the Major Leagues of Government: Enjoying Success in High-Level Government Jobs," released on February 15, 2016. This is a new resource for senior government managers, individuals who want to become senior officials, and those who want to know how the government works as President's come and go. The message at the core of the book is that senior government jobs require specialized information to survive and thrive in the Washington D.C. environment.
The fictional character named Brian introduces each of "Spring Training's" 44 chapters with a comment and a question. McDonough, in turn, responds to each question with supporting insights, references, and anecdotes. Individuals aspiring to reach the Senior Executive level will find value as they follow Brian as he accepts the job, performs in it, and eventually leaves the government with McDonough's advice about prospering after government service.
Tom Rolston, a peer and manager at IBM and author of "50 Years before Crack," said, "Americans have a limited knowledge of government. The public at large has no real insight into what goes on inside government agencies." McDonough wrote this book to both fill that need and to help others make their way through the invigorating world inside the federal government.
"Spring Training" published by Koehler Books and distributed by Ingram was originally edited by Michael Hardy of Federal Computer Week and later by Lauren Markoe, a reporter with a national news service.
For more information on "Spring Training for the Major Leagues of Government," access Frank A. McDonough's website: http://www.frankamcdonough.com to view the detailed Table of Contents and three chapters from the book.
Additionally, the book is available for purchase at Amazon and Barnes and Noble. Also, to view a summary of Spring Training, see my You Tube video at: https://www.youtube.com/watch?v=JTsbQdGKkz8
Frank A. McDonough spent 35 years as a senior executive managing technology in three federal defense organizations and three civilian agencies. In addition, for the past 25 years he has worked on technology policy issues with the officials of several international organizations. Since 2010, he has authored several journal articles on electronic government while teaching Master's degree candidates about the future of government in the digital society.