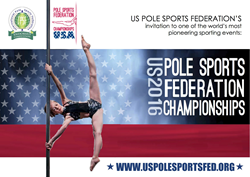 Summer Vyne, President of the USPSF – ""I am excited about our championships. The USA has never seen pole sports in this capacity and having children take part shows that this truly is a sport for all."
Jacksonville, Florida (PRWEB) February 10, 2016
The University of North Florida – 1 UNF Drive, Jacksonville, FL 32224
February 26th: Amateur & Professional Divisions - Time: 7:00pm – 10:00pm | Ticket Prices: $30
February 27th: Elite Division - Time: 7:00pm – 10:00pm | Ticket Prices $30
Social Media: http://www.USPoleSportsFed.org
Facebook: http://www.facebook.com/uspolesportsfederation
Instagram: @USPoleSportsFederation
The USPSF is the national federation and the US governing body for Pole Sports. It was founded 2014 under the name US Pole Sports Federation, and is now a non-governmental national organization constituted under US law. The Federation is non-profit and a member of the International Pole Sports Federation (IPSF), the international governing body for pole sports and the host of the World Pole Sports Championships. The USPSF is part of the push to get Pole Sports recognized globally as a sport and the eventual inclusion into the Olympic Games.
On Friday, February 26th, and Saturday, February 27th, at the University of North Florida, the U.S. Pole Sports Federation is pleased to present the 2nd Annual U.S. Pole Sports Championships 2016.
The USA's top athletes will take part in this groundbreaking event to see who will be crowned the US Pole Sports Champion and win a place at the World Pole Sports Championships in London, July 2016. The first place athletes earn an automatic entry and the 2nd place winner from each category that reach 20+ points will go on to represent the USA against 30+ other countries at the WPSC16.
The WPSC16 is brought to you by proud sponsor E.P.I.C. EPIC is the IPSF endorsed training program for youth pole sports coaches. EPIC offers supreme courses in teaching pole sports to youth athletes ages 5-17, focusing on safety, technique, physical athletic development, health and the social side of engaging youth athletes. The EPIC instructors will play a key role in bringing up the next generation of pole athletes and contribution to an ever vibrant pole community - taking it to the next level, the Olympics.
The sport of Pole has exploded onto the international scene over the past several years. With some 1,500 Pole studios across the U.S., Pole and Aerial fitness have become a popular bonding activity for men and women of all ages. The U.S. Pole Sport Championship focuses and promotes the sport of Pole. The mission of USPSF is to regulate, administer and develop Pole Sports for the benefit of millions of athletes at every level and age in the USA.
The Competitors: 7 Divisions:
Men, Women, Doubles, Novice Aged 10-14, Juniors Aged 15-17, Masters Over 40, Masters Over 50
More on USPSF: The USPSF's objectives are to advance, promote, and protect the character, status and interests of Pole Sports across the USA. To work alongside the IPSF to develop standardized rules governing regional competitions. To enforce Codes of Conduct and Standards of Ethics for both athletes and officials, to advise and assist the USPSF Regional Member Bodies and the Associate Members in the administration of Pole Sports in their regions and organizations, and to represent the USA and Pole Sports in the Olympic Movement. The USPSF amends its governing documents regularly, reviewing the Statutes and complementing the Competition Rules with pertinent codes and regulations in line with the IPSF.
More on IPSF: The International Pole Sports Federation (http://www.polesports.org) is a not for profit organization dedicated to positively promoting pole as an athletic sport. Run by voluntary members of the Pole Sports Industry from across the globe and created to foster the development of pole sports throughout the world, the IPSF supports individuals and national federations to unify the pole sports Industry. By setting in place format that will be accepted by international sport governing bodies, the IPSF's goal is for the Olympic committee to recognize Pole Sports as an official sport and to become part of the Olympic Games. The World Pole Sports Championships was created by the International Pole Sports Federation in 2012. Held every July in London, the weekend's events sees over 150 competitors from 30 different countries competing against each other in the following categories:

Men
Women
Doubles
Masters (40+ and 50+)
Youth (10-14 and 15-17)
Tickets on sale at http://www.USPoleSportsFed.org/tickets