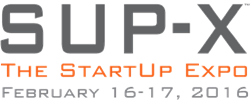 "We have an amazing group of speakers and panelists this year, experts from all aspects of the startup world: angels, VCs, entrepreneurs, technologists. They're all true leaders in their fields,"
Ft. Lauderdale, FL (PRWEB) February 08, 2016
SUP-X: The StartUp Expo, the premier annual conference that brings together startups and investors from across North America, today announced the event's final agenda and confirmed speakers. In total, 38 speakers from across the country will either lead keynotes or participate in panel discussions. Co-Founder & Principal of SPARK Solutions for Growth, Rachel Braun Scherl, will give the keynote address for the Women's Forum while Jim Jenson, vice president of SaaS Technology Evangelists & VP Strategic Alliances at Ultimate Software, will serve as keynote for the expo. Gary Bredow, host of the PBS TV series "Startup" will emcee the event. The complete list of speakers is available at http://www.sup-x.org/speakers/ and a detailed agenda at http://www.sup-x.org/detailedagenda.
"We have an amazing group of speakers and panelists this year, experts from all aspects of the startup world: angels, VCs, entrepreneurs, technologists. They're all true leaders in their fields," said Bob Fitts, founder and producer of SUP-X and president of the Boca Raton, FL, based Gold Coast Venture Capital Association. "There is an incredible wealth of talent for entrepreneurs and investors to learn from and to meet at SUP-X."
Also at SUP-X are the semifinals and finals of an international startup competition that features 50 startups from 27 North American cities. At the conclusion of the expo, five startup finalists will pitch their product or service for five minutes before a panel of five investors who will select the winners, with first place taking home $25,000. The complete list of finalists, which includes 30 from Florida, is available here: http://www.prweb.com/releases/2016/01/prweb13172030.htm.
SUP-X: The StartUp Expo also announced its largest number of event exhibitors and sponsors. In total, over 80 companies will exhibit and 92 organizations have signed up as sponsors and partners of the event.
Added Fitts, "With hundreds of investors, a great showcase of North America's top startups, a women's forum, workshops for entrepreneurs, three dozen top quality speakers and panelists and nearly 100 exhibitors and sponsors, SUP-X will be a fantastic event for anyone interested in startups, startup investing and emerging technologies. And it's priced to be accessible to startups who want to learn from and meet the best of the best, yet are bootstrapping their businesses."
SUP-X: The Startup Expo will take place on February 16-17 at the Greater Ft. Lauderdale-Broward County Convention Center in Ft. Lauderdale, FL. Entrepreneurs, investors and those interested in startups and entrepreneurship are encouraged to attend. Tickets to SUP-X are still available, and range from $59 to $399. For additional information and to register, visit http://www.sup-x.org.
For up to the minute news, follow us on Twitter @TheSupX and Like us on Facebook at https://www.facebook.com/supx.startup.expo.
About SUP-X: The Startup Expo http://www.sup-x.org.
SUP-X: The Startup Expo is the premier annual conference that brings together startup and early-stage entrepreneurs, angel and VC investors and related service providers from throughout North America. The expo provides unique and exclusive opportunities for investors to meet fellow investors and find startups from throughout North America, developing deal flow and partnership opportunities. SUP-X will be held in Ft. Lauderdale, FL on February 16-17, 2016. For more information, visit