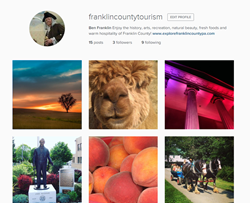 Franklin County has so many great moments, and Instagram is an ideal way to capture and share all there is to see and do.
Franklin County PA (PRWEB) February 08, 2016
Franlin County Visitors Bureau (FCVB) invites the public to log onto http://www.instagram.com/franklincountytourism , and follow Franklin County Tourism to see the many reasons to plan a visit to Franklin County. As the birthplace of baseball great Nellie Fox and 15th president James Buchanan, home of Chambersburg peaches and miles of the Appalachian and Tuscarora Trails, Franklin County is packed with history, recreation, festivals, and scenic beauty.
"Franklin County has so many great moments, and Instagram is an ideal way to capture and share all there is to see and do in Franklin County," said Janet Pollard, Executive Director of the Franklin County Visitors Bureau.
Year-round Instagram users can explore historic sites and stories of frontier, Underground Railroad, Civil War, and military history. In spring, Mercersburg's Strawberry Festival and Renfrew Institute's Annual Kite Fly are good opportunities to share the energy of Franklin County. Summer is packed with beautiful vistas for hikers, history explorers, and healthy eaters. When winter arrives, skiers and snowboarders can show off Franklin County, doing what they like best, too.
Pollard adds, "Franklin County is beautiful. It inspires artists. It challenges hikers. It even refreshes workaholics. Instagram is an ideal way to make connections."
FCVB plans to incorporate Instagram campaigns into community events, including A Cappella & Unplugged and 1864 The Burning. In addition to pictures, Instagram users can also take short videos, opening many possibilities for FCVB to create community image contests around festivals, events, and seasons. Instagram can build on the success of other social media outlets that FCVB is also using. FCVB sees all social media as gateways to engage and attract visitors to explore Franklin County PA.
The Franklin County Visitors Bureau invites all to explore Franklin County PA and enjoy the history, arts, recreation, natural beauty, fresh foods and warm hospitality of communities like Chambersburg, Greencastle, Mercersburg, Shippensburg, and Waynesboro. Franklin County PA is located just north of the Mason Dixon Line and an easy drive to Washington DC, Philadelphia, and Pittsburgh. Discover more….plan your visit at ExploreFranklinCountyPA.com, by contacting 866.646.8060 or 717.552.2977.