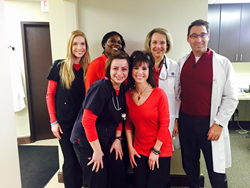 Birmingham, Lake Orion, Clarkston, Metamora, Michigan (PRWEB) February 07, 2016
Women's Excellence staff, in all four locations, wore red for women on Friday in recognition of National Wear Red Day. National Wear Red Day is the first Friday each February and a day to bring attention to heart disease and stroke in women. Heart disease and stroke cause 1 in 3 deaths among women each year – more than all cancers combined. Go Red For Women inspires women to make lifestyle changes, mobilize communities and shape policies to save lives.
Women's Excellence is the most comprehensive obstetric and gynecologic office in Michigan. They also specialize in menopause, weight control, bladder control, endometriosis, robotic surgery, pelvic floor physical therapy, and midwifery services. The knowledgeable, well-trained, compassionate physicians and healthcare providers of Women's Excellence are taking new patients and are conveniently located in four locations throughout southeastern Michigan, Birmingham, Lake Orion, Clarkston and Metamora. For more information, visit http://www.womensexcellence.com.