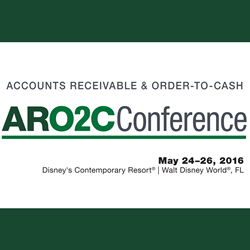 IOFM's 20-year history has been building up to this important event for AR and O2C professionals
Portland, ME (PRWEB) February 10, 2016
The Institute of Finance & Management (IOFM) announced its full agenda this week for the 2016 Accounts Receivable & Order-to-Cash Conference. The complete 3-day conference schedule is now available within the conference's 8-page brochure, hitting the mail this week, and also on the conference website, http://www.iofm.com/ar-conference.
"IOFM's 20-year history has been building up to this important event for AR and O2C professionals," said Brian Cuthbert, Executive Director of IOFM. "We've hosted many smaller AR-focused events in the past, and the all-new AR & O2C Conference is the culmination; a central educational and relationship-building gathering for professionals working in order management, billing, cash application, exceptions management, collections, O2C, and more."
The AR & O2C Conference agenda features over 30 educational sessions divided among three concurrent conference tracks. The tracks are organized to offer multiple sessions on the following categories over the duration of the conference: payments, compliance, metrics & benchmarking, shared services, Order-to-Cash, AR & O2C automation, billing, credit, collections, Accounts Receivable, leadership, and process & controls.
Two half-day workshops, along with AR and O2C certification classes, kick off the conference on May 24. General sessions begin mid-afternoon with the opening keynote and a panel discussion, "Effectively Managing Multiple Generations."
Networking events at the conference include one of the conference's most popular features, the Peer-to-Peer Roundtables. The roundtables will segment the audience based on AR department size, shared service, or Order-to-Cash operating environments. Attendees are encouraged to interact with others of a similar working environment for both educational sessions and after-hours activities.
In addition to the Peer-to-Peer roundtables, networking events at the conference include cocktail receptions on May 25 & 25, a certification celebration exclusively for IOFM certification holders on May 24, multiple networking breaks in the exhibit hall, and networking breakfasts and lunches.
The 2016 conference will wrap up with a long-standing AR Network membership feature coming to life: Ask the Experts Live. This concluding session will be audience-led, consisting of a five-person IOFM/AR Network expert panel, who will answer any financial operations questions brought forth by the audience.
To view the complete 8-page conference brochure, go to http://www.iofm.com/ar-conference/early-bird-brochure/.
ABOUT IOFM
The Institute of Finance and Management (IOFM) is the leading organization providing training, education and certification programs specifically for professionals in Accounts Payable, Procure-to-Pay, Accounts Receivable and Order-to-Cash, as well as key tax and compliance resources for Global and Shared Services professionals, Controllers and their F&A teams.
IOFM has certified nearly 20,000 financial operations professionals worldwide through its four certification programs. These programs include Accredited Payables Specialist or Manager (U.S. and Canadian specific versions available), Accredited Receivables Specialist or Manager and Certified Professional Controller. The globally recognized AP & AR certifications are available in English, Simple Chinese and Spanish.
IOFM's membership networks, the AP & P2P Network (http://www.app2p.com) and AR & O2C Network (http://www.tarn.com), feature industry research and best practices, metrics and benchmarking data, policies, case studies, tools, templates, and critical compliance and corporate governance resources. The Institute also produces on-demand e-learning resources including video trainings and web-based seminars.
IOFM hosts industry-leading conferences designed to facilitate continuing education and peer networking. These events include the Accounts Payable and Procure-to-Pay Conference and Expo (Spring and Fall), and the Accounts Receivable & Order-to-Cash Conference.
With a universe of over 100,000 financial operations professionals, growing certification and membership programs, and a keen understanding of the issues and content needs critical to the profession, IOFM is the trusted source of information in the rapidly evolving field of financial operations.