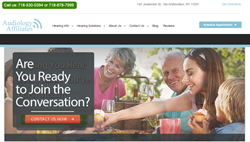 Brooklyn, NY (PRWEB) February 08, 2016
The start of the new year is an opportunity for a fresh start, particularly in terms of establishing new, healthier habits. That's why health-related resolutions are among the most popular resolutions year after year.
Health-related resolutions are also among the hardest to maintain. Therefore, it's not just a matter of picking the right resolutions; it's also a matter of establishing the right mindset and methods for long-term results. To help people develop healthier habits for 2016—habits they can stick with—Audiology Affiliates has published an article titled Start the New Year With These 5 Healthy Resolutions.
The article explores five resolutions that are realistic and achievable. The first resolution is perhaps the most important: establishing a new health outlook. Audiology Affiliates encourages its readers to think of their health as lying somewhere on a continuum, with good health on one end and bad health on the other.
Every decision an individual makes in terms of diet and exercise moves them along the continuum in one direction or the other. As long as the majority of decisions are healthy, it's perfectly acceptable to cheat on the diet or exercise plan every now and then. In fact, moderation, consistency, and perseverance have been shown to produce better results than diet and exercise plans based on deprivation of some sort (like no carb diets) or severe restrictions.
The article also contains advice on creating a diet and exercise plan, reducing stress, and ensuring hearing health, which is often overlooked and can impact overall health. For more information on how hearing loss can impact overall health, visit The Real Cost of Hearing loss.
About Audiology Affiliates
Audiology Affiliates has served the Brooklyn, New York area and its surrounding communities for years. They are pleased to offer a full range of diagnostic and preventative hearing healthcare professional services including hearing aid screening, hearing evaluations, hearing aids and accessories, rehabilitative counseling, and preventive care advice.
Contact:
Dennis L. Kisiel, Ph.D
Audiology Affiliates
718-530-0394
http://www.kisielhearing.com