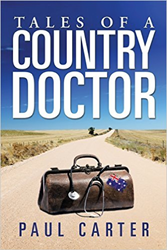 I just want to give people a glimpse into a side of the medical field few ever see.
LANCEFIELD, Australia (PRWEB) February 08, 2016
Most popularized shows or books about doctors place their protagonist in a bustling hospital with constant emergency room action and endless drama surrounding rare diseases or unfathomable accidents. But, what about the doctors who take care of all the folks outside of the big cities?
Dr. Paul Carter had a thriving practice in the heart of Melbourne, but when personal tragedy struck and the overwhelming gloom of big-city negativity began to overtake his life he decided to move to the countryside. Instead of the simple rustic life he expected, he discovered a rich community in which he could truly make a difference. This led to the creation of his first book, "Tales of a Country Doctor."
"I initially went to the country to escape from the world and hopefully continue to heal those in need," Carter said. "What happened instead was that while I was able to help the local community, they also turned my life around and healed me."
"Tales of a Country Doctor" weaves together a series of short stories mostly acting as a memoir of Carter's experience as a small-town doctor. From the heart-wrenching tale of little Isobel battling an incurable disease to the humorous anecdote of a pageant gone wrong in "Showgirl," Carter illustrates the full gamut of the human experience through family, love, loss, redemption, pets and much more.
"I just want to give people a glimpse into a side of the medical field few ever see," Carter said. "This community has given me some of the most rewarding, powerful and humbling experiences of my life."
"Tales of a Country Doctor"
By: Paul Carter
SC-ISBN: 978-1-4990-0011-5
SC-Retail price: $14.99
Available at barnesandnoble.com, amazon.com and Xlibris.com
About the author
Dr. Paul Carter was born in Warwickshire, England before moving to Australia in 1976. He received his medical degree from London University and founded a practice in Melbourne before deciding to give country living a try. He currently runs a practice in Lancefield, Victoria and continues to grow his role as an important member of the local community.
###
**FOR IMMEDIATE RELEASE**
EDITORS: For review copies or interview requests, contact:
Spencer Hotz | 317.602.7137| shotz(at)bohlsengroup(dot)com
(When requesting a review copy, please provide street address.)