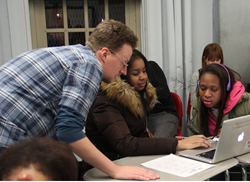 Super Bowl commercials are a golden opportunity to engage teens around million-dollar messages, which can use misinformation, bias, and other ethically questionable marketing techniques.
New York, NY (PRWEB) February 08, 2016
Media literacy nonprofit The LAMP hosted their 5th annual 'Break the Super Bowl' event for teens on Sunday, February 7 from 5-9pm at the Khalil Gibran International Academy. The Break the Super Bowl event coincided with the release of The LAMP's Break-a-thon in a Box, a free toolkit that enables educators across the country to host their own 'Break' events and use commercials, music videos, and news clips to teach critical thinking and civic engagement.
Super Bowl 50's ads leaned on humor and celebrity rather than blatant stereotyping, but The LAMP's students noted that there is still work to do. While the teens celebrated commercials designed to inspire, like Colgate's PSA to turn off the water when you brush your teeth, Mini's call to defy labels, and Budweiser enlisting Helen Mirren to shame drunk drivers everywhere, they criticized Doritos for using sexist tropes of an uncaring expectant father and wix.com for using racist stereotypes.
"Research has shown that advertising has a significant impact on not only what teens buy, but also on what they believe about themselves and others," said D.C. Vito, Executive Director of The LAMP. "With Break the Super Bowl, The LAMP engages students on familiar, fun ground and gives them the skills they need to understand, critique, and create media as well as advocate for better messages. It is an effective way to apply critical thinking skills to a wide range of issues."
This year, advertisers spent more than $5 million for a 30-second sliver of time to sell to the Super Bowl's captive audience and see their brand rack up millions more impressions online. With more than 114 million people watching the game in the U.S. and many more in other countries, it swamps any single regular event in the US in terms of interest and television viewership by huge margins.
It makes the Super Bowl a golden opportunity to engage with young people around the million-dollar messages, which can use misinformation, bias, and other ethically questionable marketing techniques. During Break the Super Bowl, teens remixed top Super Bowl commercials and competed in challenges to win prizes donated by local businesses. After a trained adult reviewed the remixed, or 'broken', commercial for fair use compliance, the video was posted online.
The LAMP also debuted Break-a-Thon in a Box, a toolkit that provides educators and others with everything they need to host their own Break-a-thon event similar to Break the Super Bowl. It includes templates and suggestions for planning, publicizing and documenting a Break-a-thon that are based on The LAMP's years of producing these events in a variety of settings.
About The LAMP
The LAMP provides hands-on learning opportunities to at-risk and underserved populations so they can comprehend, create and challenge all forms of media in the 21st century. Through partnerships with dozens of schools and nonprofit organizations, The LAMP directly reaches more than 3,000 youth, parents and educators in New York City, mostly in school and library settings. With their free MediaBreaker online video editor and educational curriculum they extend their reach nationwide and reach many thousands more. More information at thelamp.org.