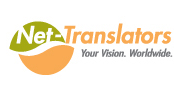 We're now able to offer a better online experience with a fresh, new look and more streamlined navigation making it easier to find information.
Cupertino, CA (PRWEB) February 08, 2016
Net-Translators, an industry-leading provider of translation, localization and multilingual testing services, announced today the launch of its revamped and improved website. In an on-going effort to further educate customers and emphasize their range of scalable language service solutions, the redesigned website will better communicate how the company designs and delivers thorough, high-quality results for its growing customer base.
Founded in 2001 and headquartered in Or Yehuda, Israel, Net-Translators draws from a team of experienced language professionals helping businesses expand into new global markets. With translation and localization resources in North and South America, Europe and Middle East, Net-Translators offers complete strategy-to-deployment solutions in over 60 languages, and leverages advanced technology ensuring highly efficient and accurate work. From planning through to launch, Net-Translators tailors services and resources to meet the unique needs and budget of each project.
"Net-Translators is well known and trusted by technology and medical companies around the world and we felt that it was time to adjust our website design", notes Shy Avni, Co-Founder and CEO of Net-Translators. He adds, "With input from our staff, customers and associates, we're now able to offer a better online experience with a fresh, new look and more streamlined navigation making it easier to find information." David Sommer, Director of Strategic Operations notes, "Our website is often the first interface with potential customers, and I couldn't be more pleased with the look, feel and end-result of our efforts. The addition of banner motion graphics, a "How Can We Help You?" feature, and front page links to our educational L10n and i18n webinars are a few of the redesign elements that will help us more effectively communicate our business model and Net-Translators range of services."
For more information on Net-Translators language service solutions and to view the new website, visit: http://www.net-translators.com.
About Net-Translators
Net Translators is a leading provider of translation, localization, and multilingual testing services in more than 60 languages. For over a decade, Net-Translators has helped global companies prepare their products and services for worldwide development.
The company's service portfolio includes the language services needed to localize and test software, medical devices, and websites including localization of user interfaces, online help, technical and marketing materials, and more. Net-Translators' one-of-a-kind Multilingual Testing Center offers professional testing staff and a dedicated localization testing environment for products of all kinds. Net-Translators is certified ISO 9001:2008, ISO 13485:2003, and EN 15038:2006, and specializes in translation of materials for compliance to international regulations. In 2011, 2012, 2013 and 2014 Net-Translators was ranked No. 1 in Translation Services by TopTenREVIEWS.