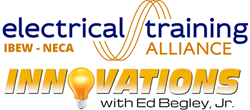 Jupiter, FL (PRWEB) February 09, 2016
Innovations with Ed Begley Jr., announced today that it will feature the electrical training ALLIANCE in an upcoming episode, airing third quarter 2016 via Discovery Channel. Dates and show times TBA.
For over 70 years, the electrical training ALLIANCE has been the only curriculum endorsed by the industry's largest labor organization, the IBEW and contractors with NECA. This segment of Innovations will explore the electrical training ALLIANCE's instructor training resources, regionalized curriculum, and advanced learning technologies.
In addition, viewers will learn how the electrical training ALLIANCE brings a new level of education to the classroom and can train students better than any other curriculum.
The electrical training ALLIANCE is dedicated to providing the electrical construction industry the best training curriculum to ensure apprenticeship success. Todd Stafford, Executive Director, electrical training ALLIANCE, also stated, "We deliver an apprenticeship training platform and content that is second to none. Through a unique blended learning approach, local training centers can easily combine classroom instruction utilizing online tools, with active immersive simulations to continue educating and communicating with students long after class was dismissed." He then continued, "The electrical training ALLIANCE is very excited about this opportunity to participate in the Innovations series."
"The electrical training ALLIANCE reaches beyond the textbook, incorporating advanced technology in all aspects of training," said Eric Buckley, Producer for the Innovations TV Series. "We look forward to exploring this topic, and to educating viewers on how technology is bridging the gap between apprenticeship and learning in the classroom."
About The IBEW/NECA electrical Training ALLIANCE
The IBEW/ NECA electrical Training ALLIANCE was created in 2014 evolving from previously named the NJATC. The NJATC is a nonprofit organization founded in 1941 by the National Electrical Contractors Association (NECA) and the International Brotherhood of Electrical Workers (IBEW). The organization is committed to developing and standardizing education in the electrical industry to properly and effectively train members of NECA and the IBEW; providing the electrical construction industry with the most highly trained and skilled workforce possible. Since its inception, more than 325,000 apprentices have completed NJATC training programs and become competent Journeymen, making the organization one of the largest training and apprenticeship programs of its kind. For more information, visit: http://www.electricaltrainingalliance.org
About Innovations and DMG Productions:
Innovations, hosted by award winning actor Ed Begley, Jr., is an information-based series geared toward educating the public on the latest breakthroughs in all areas of society. Featuring practical solutions and important issues facing consumers and professionals alike, Innovations focuses on cutting-edge advancements in everything from health and wellness to global business, renewable energy, and more.
DMG Productions (responsible for creating the Innovations show) includes personnel specialized in various fields from agriculture to medicine, independent films to regional news and more. Field producers work closely with experts in the field to develop stories. This powerful force enables DMG to consistently produce commercial-free, educational programming that both viewers and networks depend on.
For more information visit http://www.InnovationsTelevision.com or contact Eric Buckley at (866) 496-4065 x 817 or via email at eric(at)InnovationsTelevision.com.