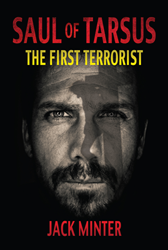 Dallas, Texas (PRWEB) February 08, 2016
As Ash Wednesday approaches, in his new book, Saul of Tarsus: The First Terrorist, author Jack Minter provides rare insight into the man who was once the greatest intentional murderer of Christians—"the first terrorist"—but was ultimately so touched by God that he became one of the greatest Christians of all time and a martyr for his faith in Jesus Christ. Paul was the ultimate example of redemption.
As Christians across the globe pause to reflect on their relationship with God in observance of Ash Wednesday, Saul's incredible transformation is the perfect example of how we can also be powerfully transformed by God's love. Although we may never fully comprehend Christ's love for us, Saul of Tarsus is the true testament of how radically our lives are changed when faith and trust are put in Jesus Christ.
According to Minter, when Saul finally became transformed to the belief that Jesus Christ was the Son of God, Paul then understood his own pride and hostility.
"Paul began to see that he spent his life living a mistake," says Minter. "Paul knew that it was he who was wrong in his knowledge. He understood in ultimate repentance that he had been the one who had persecuted the Holy One, God's Son, the Messiah, now Paul's Savior."
Ash Wednesday offers a great opportunity to remember Paul's ultimate cautionary story for every man that demonstrates repentance can be redeemed through Jesus Christ.
"If redemption can come through Jesus Christ to the world's first and foremost terrorist, it can come to any man who wishes to rise from the ashes of sin," adds Minter.
About Brown Books Publishing Group (BBPG)
Founded by Milli Brown in 1994, Brown Books Publishing Group is a full-service, independent publisher of high-quality books across all genres, from nonfiction to fiction. Committed to producing award-winning books for authors who choose to retain the rights to their intellectual property, Brown Books publishes more than one hundred titles a year and has won numerous prestigious awards, including the Writer's Digest Grand Prize, Mom's Choice Award, Foreword Book of the Year, Gold Ink Award, Axiom Business Book Award and many more. Brown Books authors have appeared on programs and channels such as the "Today" show, Fox News, "Face the Nation," CNN and BBC News. They have been featured in publications such as USA Today, Publishers Weekly, and The New York Times. In addition, BBPG authors have been guests on NPR programming, including "The Diane Rehm Show," "Morning Edition," "The Takeaway" and "Tell Me More." To learn more, visit http://www.BrownBooks.com and http://www.BrownBooksKids.com and http://www.BrownChristianPress.com
About The Agency at Brown Books (ABB)
The Agency at Brown Books is a full-service public relations, marketing and branding firm within a publishing house. As a subsidiary of Brown Books Publishing Group, The Agency is backed by 20 years of excellence and experience, and the one-of-a-kind, integrated platform is available to Brown Books' authors as well as to non-affiliated authors, established writers, entrepreneurs, CEOs and anyone seeking smarter strategies for building their business. For more information, visit http://www.TheAgencyAtBB.com.
CONTACT: Vicki Morgan Vicki.Morgan(at)TheAgencyatBB(dot)com or Alicia Auping Alicia.Auping(at)TheAgencyatBB(dot)com with the Agency at Brown Books 972.248.9500
For more information and to purchase Saul of Tarsus: The First Terrorist, please visit http://www.JackMinter.com.