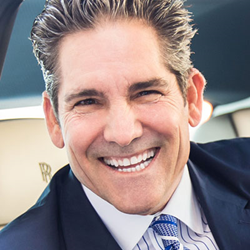 Success is revenge with no downside. - The 10X Rule
Miami Beach, FL (PRWEB) February 08, 2016
Grant Cardone's smash hit The 10X Rule just joined a select group of bestsellers atop Apple iBooks Bestsellers for January 2016. Other bestsellers on the list include The Art of War, Pride and Prejudice, Harry Potter, and Rich Dad Poor Dad.
The 10X Rule was released back in 2011, featuring Grant Cardone's principles to rise above mediocrity, expand your goals, and achieve massive success in every area of life. Grant Cardone says that The 10X Rule is the Holy Grail for those who desire success, and the single principle that all top achievers use in the most flourishing areas of their lives.
"Grant Cardone has hit the nail on the head with the 10X Rule—telling you the real reason people succeed greatly in any area of life"—Brian Tracy, bestselling author of over 45 books.
"Grant Cardone is the master at showing people exactly what they MUST do to create the success they desire"—Barry Poznick, executive producer of How'd You Get So Rich? and Are You Smarter Than A 5th Grader?
The 10X Rule continues to grow organically by word of mouth as people worldwide are finding the principle helpful in turning around their careers and lives, encouraging them to become obsessed with their goals and dreams. On the heels of the success of The 10X Rule, Grant Cardone will release his next book, Be Obsessed or Be Average, coming this August.
Grant Cardone also instills his 10X teachings into his wildly popular Cardone University platform, which has over 1500 video training segments on success used by Fortune 500 companies and individual entrepreneurs alike.
About Grant
Grant Cardone is a business strategist, marketing and branding expert, the leading international sales expert in the world and best-selling author of five books. Cardone owns multiple companies; Cardone Training Technologies, Inc., Cardone Group (a software and technology business), Grant Cardone TV (online media network), and Cardone Acquisitions, a national real estate company which currently owns over 3,500 units throughout the United States.
Cardone is the world's top sales training expert with the most viewed online sales training site in the world today with over 1500 segments of content used by companies like Ashley, Aflac, All State, Google, MIT, Inside Sales, Udemy, Chrysler, Toyota, Morgan Stanley, T-Mobile, AT&T, Sprint, Fran Tarkenton Companies and thousands more. You can follow Cardone on Twitter @GrantCardone or visit http://www.GrantCardone.com
For further press information on Grant Cardone please contact Vaughn Reynolds:
Vaughn Reynolds – Public Relations
PR(at)GrantCardone(dot)com
Cardone Training Technologies, Inc
Phone: 310.777.0255
Fax: 310.777.0256
Web: http://www.grantcardone.com