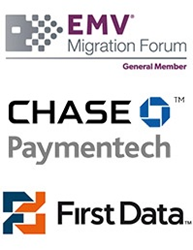 Silver Spring, MD (PRWEB) February 09, 2016
Merchant Link, a leading provider of payment gateway and data security solutions, announced today that its TransactionLink™ product together with Verifone VX devices is certified for EMV® Chip and PIN Card acceptance for retail, restaurant and lodging in the United States with Chase Paymentech and First Data.
Dan Lane, CEO at Merchant Link shared, "We are pleased to announce that Merchant Link has achieved U.S. EMV certifications from Chase Paymentech and First Data using the Verifone VX family of devices, including the Verifone VX 805, VX 820, VX 690 and e355." Lane continued, "Having both EMV certifications has paved the way for the multitude of subsequent processor and device certifications on our roadmap. Merchant Link has always maintained its commitment to providing our customers with options. The goal with EMV is to continue to fulfill that promise. Implementing EMV in the U.S. has proven challenging for many in the integrated point of sale market. Merchants and partners do not see the behind the scenes work that ensures a smooth certification; it requires efficient timing and synchronization between processors, card brands and device manufacturers."
"Merchant Link has been a leader in the security payment industry serving restaurants, lodging and retail for over twenty years. Being able to provide merchants, partners and resellers additional security that directly addresses fraud has been a top priority for us," continued Lane.
By combining TransactionLink™ (EMV/Chip & PIN) with Merchant Link's other security solutions TransactionVault® (Tokenization) and TransactionShield® (Point-to-Point Encryption), merchants are able to protect their consumers' payment card data in flight, at rest and against card-present fraudulent activity.
Merchant Link serves over 400,000 customers that process over 6 billion transactions annually. Identifying new ways to securely manage transactions is core to its business. Operating in a 24x7x365 manner, Merchant Link provides semi-integrated data and payment card security solutions, allowing merchants to focus on their businesses.
# # #
About Chase Paymentech
Chase Paymentech, the global payment processing and merchant acquiring business of JPMorgan Chase & Co., is a leading provider of merchant services. The company's proprietary platforms enable integrated solutions for all payment types, including credit, debit, prepaid stored value and electronic check processing; as well as alternative and mobile payment options. Chase Paymentech has uniquely combined proven payment technology with a long legacy of merchant advocacy that creates quantifiable value for companies large and small. In 2012, Chase Paymentech processed 29.5 billion transactions with a value of $655.2 billion, including an estimated half of all global Internet transactions. In addition to the ability to authorize transactions in more than 130 currencies, the company provides business analytics and information services, fraud detection and data security solutions. More information can be found at http://www.chasepaymentech.com.
About First Data
First Data is a global leader in commerce-enabling technology and solutions, serving approximately six million business locations and 4,000 financial institutions in 118 countries around the world. The company's 23,000 owner-associates are dedicated to helping companies, from start-ups to the world's largest corporations, conduct commerce every day by securing and processing more than 2,300 transactions per second and $1.9 trillion per year.
About Merchant Link
Merchant Link is a leading provider of cloud-based payment gateway and data security solutions, removing the risk and hassle of payments for more than 400,000 restaurant, hotel and retail locations. Founded in 1993 and headquartered in Silver Spring, Md., Merchant Link currently enables more than 6 billion transactions annually for some of the world's best-known merchants, providing connectivity to the major U.S. payment card processors. TransactionVault®, our tokenization solution, and TransactionShield®, our point-to-point encryption solution, mitigate the risk of a data compromise while lowering the cost and effort of PCI compliance. For more information, please visit http://www.merchantlink.com.
EMV is a registered trademark or trademark of EMVCo LLC in the United States and other countries.