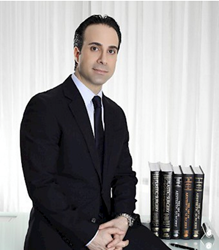 "I ensure that the patient's needs always come first. It's such an honor to receive this award and is a great affirmation of my efforts to create a comfortable atmosphere and establish trust with my patients."
Beverly Hills, CA (PRWEB) February 11, 2016
Once again awarding triple board certified plastic surgeon Dr. Raffi Hovsepian for his accomplishments in the medical field, physician-led research team at Castle Connolly Medical Ltd. has recognized Dr. Raffi Hovsepian as one of the Top Doctors for 2016.
Castle Connolly Medical Ltd. is a company dedicated to helping consumers find the best healthcare. They publish a series of books called "Top Doctors," the most popular book being America's Top Doctors®. The doctors listed in the books are nominated by their peers in an extensive survey that rates thousands of American doctors yearly based on their education, training, professional achievements and malpractice history. Castle Connolly Top Doctors are prestigious leaders in their regions.
Dr. Raffi Hovsepian has many achievements in aesthetic, plastic and reconstructive surgery. He consistently provides his patients with top-level care by implementing the latest innovations in the field. In speaking of his practice philosophy, Dr. Raffi says, "I ensure that the patient's needs always come first. It's such an honor to receive this award and is a great affirmation of my efforts to create a comfortable atmosphere and establish trust with my patients." Dr. Hovsepian has also co-authored and edited elite books and journal articles in his field. Dr. Raffi Hovsepian's professional achievements, full patient satisfaction and numerous awards demonstrate his incredible capabilities as a physician. He has been featured on multiple television programs, such as The Dr. Oz Show and Entertainment Tonight to share his expertise. Dr. Hovsepian has also invented Shrink-Wrap Liposuction, a minimally invasive surgery that uses FDA-approved laser technologies to combine fat-melting with skin-tightening and produce flat, firm contours in targeted areas. Other benefits include minimal scarring and significantly reduced recovery time.
About Dr. Raffi Hovsepian
Dr. Raffi Hovsepian graduated medical school with a Doctor of Medicine and two Master's degrees in Science, and Pathology and Physiology—all while remaining in the top 10% of his class. He graduated as Chief Resident in general surgery at the University of Nevada School of Medicine. After his residency, he completed a fellowship at the Aesthetic & Plastic Surgery Institute at the UC, Irvine School of Medicine. Dr. Hovsepian currently resides in Beverly Hills, California, but also owns international practices in Brazil and Greece so he can serve clients that live all over the world.