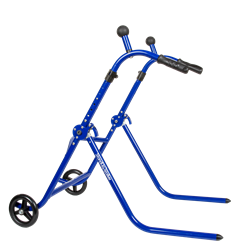 With 18 million people in the US and Canada diagnosed with mobility issues, the StandUp Walker enables the user greater independence to get up and go.
Charlotte, NC (PRWEB) February 09, 2016
URise Products announces today an Indiegogo campaign to support the launch and production of its newest mobility device, the StandUp Walker. Made entirely in the USA, the StandUp Walker is one of the biggest innovations in walker design in the last 50 years.
StandUp Walker's novel patent-pending design offers 2-in-1 benefits of a stand-assist device combined with a traditional walker. StandUp Walker enables the user to independently lift themselves from a seated position easily and safely. For more information on the the Indiegogo campaign, please go to http://igg.me/at/StandUpWalker
View the StandUp Walker Video.
StandUp Walker was designed for use both inside and outside the home and collapses for transport. This innovative walker is lightweight, easy to use and increases mobility and independence of the user.
StandUp Walker was invented by Howard Liles when he was an engineering student at MIT and then further developed during his graduate engineering studies at Georgia Tech. Howard's inspiration came when his grandmother suffered a hip injury and like millions of people around the world, was severely challenged to get up to a standing position while seated.
The StandUp Walker Indiegogo campaign kicks off today. Contribution levels begin at $25 and contributors can choose whether they would like to be one of the first to receive the innovative StandUp Walker for themselves, a friend or loved one. Additionally, contributors can partially or fully fund StandUp Walkers that will be donated to the Falling Forward Foundation, a non-profit organization that aids people who are recovering from catastrophic medical issues.
For more information,visit http://www.StandUpWalker.com, contact us by email, or follow on Facebook, Twitter, YouTube and LinkedIn.
About URise Products, LLC
Headquartered in Charlotte, N.C., URise is a Durable Medical Equipment (DME) manufacturer and distributor specializing in mobility aids. Urise's products help patients and caregivers avoid unnecessary injury and prolong independent living for their customer. URise Products mission is to provide a higher quality of life through the development and market introduction of innovative mobility devices. http://www.URiseProducts.com
About Falling Forward Foundation
Falling Forward Foundation makes it possible for people to recover from catastrophic medical events (e.g., strokes, traumatic brain injuries, spinal cord injuries). We make grants to rehabilitation centers that fund continued therapy for patients after their insurance benefits run out. Therapy caps lead to "disability". WE STAND FOR ABILITYsm! To learn more, please visit our website http://www.fallingforward.org and social media pages (Facebook, Twitter, Instagram).