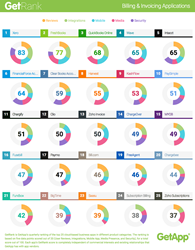 Billing and invoicing on-the-go is increasingly important for the mobile worker. As such, a fully-featured mobile app is of paramount importance to enabling anytime, anywhere access to the information needed to produce bills and invoices
(PRWEB) February 10, 2016
Cloud-app marketplace GetApp has revealed its latest ranking of the top 25 billing & invoicing apps: Xero topped the Q1 2016 ranking, with FreshBooks securing the second spot, and QuickBooks Online coming in at third.
GetRank is a quarterly independent ranking that aims to make it easier for small and medium businesses to choose an app based in the cloud. GetApp bases the ranking on five different criteria: user reviews, integrations, mobile app availability, media presence, and security. Each app can score up to 20 points for each data point, for a total possible score of 100.
Xero showed its strength in media and integrations with a score of 20 and 19 for each, respectively, although QuickBooks Online was the integrations winner, clocking up 20 points for this data point. QuickBooks tied with FreshBooks for the best mobile app with a score of 19, while #17 ranking Paymo came out on top in user reviews, with a score of 20 points. Meanwhile, PaySimple, ChargeOver, and Fusebill all had similar credentials in security, with a score of 17 each.
"Billing and invoicing on-the-go is increasingly important for the mobile worker. As such, a fully-featured mobile app is of paramount importance to enabling anytime, anywhere access to the information needed to produce bills and invoices on the fly within a safe and secure environment," says James Thornton, chief editor of GetApp and AppStorm.
Mobile app scores are pulled from the Apple App Store and Google Play, based on the availability of both apps and their related scores in each store. User reviews and integrations are calculated based on the number and average rating of reviews and the number of software integrations listed on GetApp, respectively, while media presence is based on the number of Twitter followers and Facebook fans that an app has. Finally, security scores are based on vendor-provided data from a security survey based on the Cloud Security Alliance's Self Assessment Form.
For more information, check out the entire Q1 2016 GetRank of billing & invoicing solutions. You can also download a free copy of the report, Accounting in the Cloud, which features commentary from industry leaders on trends within the cloud accounting sector.
More about GetApp: GetApp, a Gartner company, is the leading premium business app discovery platform on the web. Headquartered in Barcelona (Spain), GetApp serves as a platform for user-generated and editorial reviews of software and apps for businesses.