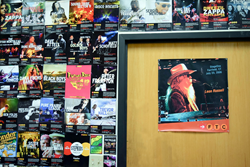 Fairfield, CT (PRWEB) February 09, 2016
There isn't just one thing that brings back artists time and time again: staff, atmosphere, wonderfully designed, intimate venues, and of course, the tight knit community that makes Fairfield such a charming town to reside in and visit. FTC's StageOne has consistently been voted the best venue in the region for live music and things just keep getting better as it spreads over to the newest venue: The Warehouse.
February's lineup is as follows:
Keller Williams Kwahtro
Thursday, Feb. 11
Doors: 8 p.m., Show: 9 p.m.
Tickets: $38 GA
Tom Tom Club: We Built The Warehouse Party
Friday, Feb. 12
Doors: 7 p.m., Show: 8 p.m.
Tickets: $95 GA, Members: $85
Jackie Greene
Saturday, Feb. 13
Doors: 7 p.m., Show: 8 p.m.
Tickets: $35 GA, Members: $30
The Soul Rebels with Talib Kweli
Friday, Feb. 19
Doors: 7 p.m., Show: 8 p.m.
Tickets: $29 GA
Leon Russell
Saturday, Feb. 20
Doors: 7 p.m., Show: 8 p.m.
Tickets: $45 GA, Members: $40
The Lone Bellow
Tuesday, February 23
Doors: 7 p.m., Show: 8 p.m.
Tickets: $19 GA, $22 at Door
Dana Fuchs Band and Popa Chubby
Friday, Feb. 26
Doors: 8 p.m., Show: 9 p.m.
Tickets: $35 GA, Members: $3
Visit http://www.fairfieldtheatre.org for samples of the music and ticketing information.
Many artists have not only performed on Fairfield Theatre Company's StageOne, but they also continue to return to FTC, only this time, to The Warehouse. February alone holds six performers who have graduated from StageOne and moved into FTC's 640 capacity venue. Dana Fuchs returns on Feb. 26 with Popa Chubby, both of whom have brought their talents to Fairfield over the years.
"Fairfield Theatre I'm ready for lucky number seven!" said Ms. Fuchs. "That's right, my seventh show at one of my favorite venues, playing for some of my favorite people! This time in the new Warehouse doing a double bill with my dear friend and talent extraordinaire, Popa Chubby. I can assure you this will be one helluva rock show. Old school style!"
Other artists who are ready to go from the wonderfully intimate StageOne to The Warehouse are Keller Williams on Feb. 11, Tom Tom Club on Feb. 12, Jackie Greene on Feb. 13, The Soul Rebels with Talib Kweli on Feb. 19, and Leon Russell on Feb. 20.
One, five, and even 10 years later, musicians keep returning to FTC. With New York City just down the road, why do artists return to Fairfield, Conn. year after year?
"A most unique and special venue."
"Incredible vibe!"
"This is one of my favorite sounding rooms in the entire country."
Those are just a few comments about FTC's 225 capacity venue, StageOne, that are consistently heard about nationally-touring acts.
Is it the intimacy of the black box-style theater, the attentive staff, or the skilled sound technicians?
"The energy is amazing, much love to everyone at FTC. It's all about the music. As with all the best moments in life, it is simply a matter of ambience," said Dave Wakeling of The English Beat who has performed at StageOne 17 times since 2008. "It takes a lot of hard work to make something appear effortless, and FTC has done it right. Thank you again!"
FTC Executive Director John Reid, commenting on the reputation FTC has built over the past 14 years, says, "FTC is absolutely thrilled to be an important part of so many extraordinary artists' careers and we never take that for granted. Our new venue, The Warehouse, allows us to do even more as so many of our favorite artists have the opportunity to play the larger venue to their growing base of fans. It also allows us to introduce more and more new artists to the area. It's a beautiful thing!"
About Fairfield Theatre Company:
The Fairfield Theatre Company is a nonprofit organization dedicated to a simple premise - that the broadest spectrum of live entertainment and cultural exchange is essential to the vitality of our society. We believe that our quality of life depends on opportunities to get out, and come together in public places to enjoy live music, art, theatre, film, all manners of creative and intellectual discourse, and to participate in these activities to the fullest. From our first season of plays in 2001 on the Fairfield University campus, to the opening of our StageOne venue in downtown Fairfield in 2004, The Warehouse in 2015, to a string of highly-acclaimed performances presented at The Klein Auditorium in Bridgeport and the Norwalk Concert Hall, FTC has evolved into the region's most energetic and productive performing arts organization.