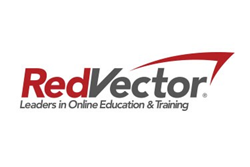 We're proud to partner with the ICC to train professionals on the newest code provisions, which are designed to safeguard public health and safety in our communities, improve efficiencies, enhance builder profitability and reduce consumer costs
(PRWEB) February 09, 2016
RedVector, the leader in eLearning and workforce training solutions for the architecture, engineering, construction, industrial and facility management industries, has teamed up with the International Code Council (ICC), to expand upon its codes and standards training series.
Each day, building codes protect the public from structural, sanitary, and fire disasters while ensuring a minimum level of energy efficiency in buildings. Some requirements such as fire safety codes and structural and seismic standards affect the public in obvious ways. Others, such as lighting quality, acoustics and the air humans breathe also have major effects on our health and productivity, as we spend nearly 90 percent of our lives inside buildings, according to the U.S. Environmental Protection Agency.
RedVector's new codes training courses will inform professionals about the provisions of the 2015 International Building Code, the 2015 International Fire Code and the 2015 International Energy Conservation Code, which differ from 2012 codes.
The process of updating model codes every three years is optimal to ensure new technologies, materials and methods, as well as better approaches to health and safety, can be incorporated into the next generation of buildings with sufficient time for proof of performance.
"We're proud to partner with the ICC to train professionals on the newest code provisions, which are designed to safeguard public health and safety in our communities, improve efficiencies, enhance builder profitability and reduce consumer costs," said Bobby Person, RedVector Product Director.
RedVector's New ICC Codes & Standards Courses Are as Follows:
2015 International Fire Code Essentials:
General Safety Precautions
Site and Building Services
Fire/Life Safety Systems and Features
Special Processes and Building Uses
Hazardous Materials
2015 International Building Code Essentials:
Fire Safety
Health Safety
Life Safety
Structural Safety
2015 International Energy Conservation Code:
Commercial Essentials
Residential Essentials
2015 International Residential Code Essentials (Coming Soon):
Code Administration and Site Development
Structural
Health and Safety
Protection, Utilities, Conservation, and Hazards
Code Administration, Enforcement, and Building Planning
Fire Safety
Life Safety
Health Safety
Structural Safety
Fast Facts:

Preliminary 2015 results from the largest residential energy code field study ever conducted in the U.S. by the U.S. Department of Energy show stronger code compliance, improved energy conservation and substantial costs savings so far
Building to code can reduce the number of customer callbacks for maintenance and repairs
Standardization improves margins: When building codes are standard, designers and builders have to spend less time ensuring that a design meets local code
Model building energy codes and standards have the potential to save U.S. consumers an estimated $330 billion by 2040. -- U.S. Department of Energy
Conformance to current building codes reduced the severity of hurricane losses by 42 percent and loss frequency by 60 percent, according to an IBHS study following Hurricane Charley
Every dollar spent on mitigation would save four dollars in losses, according to a study funded by FEMA and conducted by the National Institute of Building Sciences' Multihazard Mitigation Council
Every dollar spent on code compliance and enforcement efforts returns six in energy savings, a 600 percent return on investment, according to the Institute for Market Transformation (IMT)
About RedVector
RedVector sets the standard for excellence in online continuing education and training for the architecture, engineering, construction (AEC), industrial and facility management industries and holds nearly 100 state and national accreditations. RedVector offers individual courses as well as large-scale corporate training solutions featuring customizable and easily accessible online universities with a full range of tracking and reporting features. With an online library exceeding 2,250 courses authored by more than 100 subject matter experts, RedVector serves professionals and organizations in all 50 states. The recipient of numerous community honors and industry awards, RedVector was founded in 1999 and is headquartered in Tampa, Florida. For more information, call 1-866-546-1212 or visit http://www.RedVector.com.