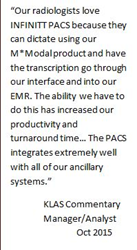 Phillipsburg, NJ (PRWEB) February 09, 2016
INFINITT North America, a leading provider of enterprise image management solutions for healthcare, announced today that the 2015/2016 Best in KLAS Awards: Software & Services report named INFINITT PACS #1 Category Leader in PACS (Community) and #1 in PACS (Ambulatory). In PACS, over 200 bed category, INFINITT PACS ranked #2.
"As healthcare continues to evolve, it is imperative that we seek innovation and constantly address the needs of a shifting market. The Best in KLAS and Category Leader winners are the ones making the greatest strides within their market segments," said Adam Gale, CEO and president of KLAS.
"This recognition from KLAS –and from our customers--means a great deal to us," said INFINITT North America President and CEO, David Smarro.
"The pressure on radiology departments and imaging centers today makes the PACS industry a demanding one. With so much expected of them—increased productivity, faster turnaround times, better communication with referring doctors-- radiologists in turn expect great things from their PACS provider."
"INFINITT is committed to upholding high standards, both in terms of support and ongoing product development," said Smarro. "And now, with our vendor-neutral storage platform, INFINITT PACS integration with EMR's and other systems will be greatly simplified."
About INFINITT North America
INFINITT North America is a wholly-owned subsidiary of INFINITT Healthcare, a global company with more than 4000 PACS installations worldwide. INFINITT will be at HIMSS16, showcasing INFINITT Healthcare Platform, VNA solution and universal viewer.This centralized archive solution provides open, standards-based storage and manages DICOM and non-DICOM data over their life cycle. INFINITT's web-based viewer includes RIS, PACS, Cardiology Suite, Mammo PACS, Dental PACS and 3D/Advanced Visualization solutions all operating on a unified platform. INFINITT PACS has been a category leader in Best in KLAS Awards: Software and Services eight times since 2009 -- 2009-2012 in the Community Hospital category, 2013 in the Ambulatory category and 2015/2016 in both Community and Ambulatory categories. For more information, call 877-387-6960 or visit http://www.infinittna.com.
2015/2016 Best in KLAS Awards: Software and Services ©2016 KLAS Enterprises, LLC. All rights reserved.
About KLAS
KLAS is a research and insights firm on a global mission to improve healthcare delivery by amplifying the provider's voice. Working with thousands of healthcare professionals and clinicians, KLAS gathers data and insights on software, services and medical equipment to deliver timely reports, trends and statistical overviews. The research directly represents the provider voice and acts as a catalyst for improving vendor performance. Follow KLAS on Twitter at http://www.twitter.com/KLASresearch.