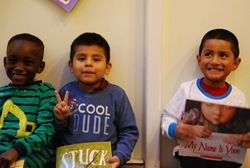 "We believe that our gifts carry love and tenderness to every child, delivering a message that someone cares, that they're not forgotten. But most of what we're hearing goes much deeper than that," said Genevieve Piturro.
New York, NY (PRWEB) February 10, 2016
For many underprivileged children, nighttime does not include warm pajamas or a bedtime story. Many go to bed wearing their daytime clothing and have never experienced the comfort of a cozy pair of pajamas and a goodnight story to send them off into a sweet slumber. This heartbreaking reality is what inspired Genevieve Piturro to launch Pajama Program.
Pajama Program's Founder and Executive Director, Genevieve Piturro, founded the organization in 2001 after identifying the need for warm sleepwear and books to underserved children and teens across the country. Since its inception, Pajama Program has donated over four million pairs of new pajamas and books to children from over 2,600 Receiving Organizations including shelters, group homes, and temporary housing facilities across the country. Celebrating its 15th year, the organization now has 60 chapters in 33 states. But this is just the start of addressing this growing need and ongoing issue.
Pajama Program's One Million Good Nights campaign was launched in 2013 with a goal to raise 1 million pairs of new pajamas and 1 million books in just two years by the end of 2015. Pajama Program decided on such an aggressive goal to make a critical impact for these children and teens and shine light on the fact that hundreds of thousands of children in the U.S. are being sent off to bed without the comforting resources that many of us take for granted. Genevieve and the Pajama Program team are proud to announce that they not only met this One Million Good Nights goal, but exceeded it. With the help of lead sponsor Carter's, book sponsor, Scholastic, and community members and volunteers nationwide, Pajama Program collected a total of 1,204,126 new pairs of pajamas and 1,060,085 new books in two years.
It is through the One Million Good Nights Campaign that Pajama Program uncovered the somber realities that these children and teenagers are faced with – and how the gift of a pair of new pajamas and a new book actually make a huge impact far greater than anyone imagined.
"We believe that our gifts carry love and tenderness to every child, delivering a message that someone cares, that they're not forgotten. But most of what we're hearing goes much deeper than that," said Genevieve Piturro.
In 2014, Genevieve and the Pajama Program team embarked on preparing a Pajama Program Mission Report – a national research project with caregiver and staff interviews from some of Pajama Program's Receiving Organizations. The purpose was to find out record statements about exactly what the children Pajama Program serves are dealing with and what the gifts of new pajamas and books mean to them.
Upon collecting the interviews, trending statements started to appear. Most of the interviewees expressed how the children feel that society has shunned them; they feel like they are outcasts among other children. They don't trust anyone or anything when they are brought to a new or temporary place to live. They won't accept anything – food, clothing, or even a kind word. They don't trust, therefore, they won't consent to a foster home, the ultimate goal of an agency caring for them temporarily.
In an interview with an employee of Foster Children's Resource center in California, Pajama Program asked what kind of challenging situations the children are currently dealing with.
The employee responded, "The most challenging situations are in their family lives – drug and alcohol abuse, physical abuse, incarceration, immigration issues, illness, death and injury. Many of these children are removed from their dysfunctional surroundings on an emergency basis and are moved from one home to another with only the clothes on their backs. Families who care for foster children receive very limited resources and these proceeds do not stretch far enough to meet the needs of the children. As a result, the children are suffering."
In another interview with an employee from The Osborne Association in New York, Pajama Program asked, "what do the pajamas mean to the children?"
"Giving them new pajamas is giving them something without expecting anything in return. It's a gift that makes them so happy and helps them feel good. They are able to go to sleep with confidence and wake up feeling confident and ready for the day," the employee said.
Pajama Program then asked, "what do the books mean to the children?"
"The new books encourage literacy, imagination and excitement. Books open their eyes to new people and places," the employee said. "It allows for a better relationship with the caregivers and makes them want to read (together) more when they see how excited the kids are about the books and how much they love the pictures and stories."
Another caregiver from a Pajama Program Receiving Organization, BRAD Child Development in Arkansas explained that, "In life, one has moments of extreme happiness and extreme sadness. The gesture of receiving a new pair of pajamas and book serves as a small building block for stability and emotional well-being and a happy memory that can be passed on."
The importance and impact of the One Million Good Nights became evident – from both the caregiver interviews and the heartwarming thank-you letters from children who were so happy to have something to call their own.
These are just a few highlights from Pajama Program's interviews with many Caregivers and Receiving Organizations impacted by the program's efforts. The entire impact mission report can be found here.
Carter's, Inc. has been Pajama Program's lead sponsor for the last six years and signature partner in the One Million Good Nights campaign since its launch. Carter's and their customers made a huge contribution to the campaign by donating a total of 604,000 pairs of pajamas over the last two years. Additionally, Carter's helped to drive awareness and support of Pajama Program by asking shoppers, both online and in-store, to donate new pajamas or make a monetary donation in support of One Million Good Nights, totaling $3 million. All monetary donations collected went towards the purchasing and delivering of new pajamas and books as well as facilitating more reading activities and supporting Pajamas Program's national volunteer network.
"We are grateful for the opportunity to partner with Pajama Program to ensure more children feel safe and loved at bedtime," said Michael D. Casey, Carter's, Inc. Chairman and Chief Executive Officer. "We are proud to support Pajama Program and the One Million Good Nights campaign to improve the well-being of children throughout this country. Together, we can make a difference for children in need and ensure they know that someone cares."
Additionally, Scholastic has been Pajama Program's leading book partner since 2009. For the One Million Good Nights campaign, Scholastic Reading Club launched a national school drive initiative, asking schools to host pajama drives in their classrooms to support Pajama Program. Since 2013, thousands of schools from across the country have rallied together to donate more than 260,000 pairs of new pajamas. Each year, Scholastic Reading Club has committed ot matching the donation with books, and even exceeding that donation, bringing the total donation of books to more than 400,000 for Pajama Program's One Million Good Nights campaign.
"The pajama drive touched millions of kids around the country this year, both the students who gave, and the children who received these wonderful pajamas and books," said Judy Newman, President of Scholastic Reading Club. "Providing 1 million books to children in shelters is something to be widely celebrated, and it is all thanks to the tireless work of Genevieve Piturro and her team at Pajama Program, an organization and partnership we greatly treasure."
"The pajamas and books come in and then we send them out as fast as we can," says Genevieve. "Our waiting list continues to grow and grow making it difficult to keep up with it. It's also important to remember that these children and teens grow out of their books and pajamas. Though our One Million Good Nights Campaign has ended, the need for warm pajamas and books continues. 2015 was an amazing year for Pajama Program and we are hoping we can do the same for 2016."
To support Pajama Program in 2016, please visit http://www.pajamaprogram.org or call its headquarters at 212-716-9757.
For media/press-related inquiries, please contact
Marina Maib at Marina(at)aka-pr(dot)com or call (212) 989-3235
Jeanine Pepler at Jeanine(at)aka-pr(dot)com or call (917) 797-0676
Video: Pajama Program Presentation 2015
Pajama Program Photos
About Pajama Program
Pajama Program is a 501(c)(3) organization dedicated to delivering new, warm pajamas and books to children in need, many of whom are without parents and/or permanent homes. Pajama Program serves children ranging in age from newborn to 18 who live in group homes, shelters and temporary housing. Since 2001, Pajama Program has provided over 4 million new pajamas and books to children through 60 chapters across the United States. Pajama Program has received a 4-star rating from Charity Navigator, America's largest and most-utilized independent evaluator of charities. Pajama Program meets the Better Business Bureau's 20 charity standards, the highest ranking for non-profits.
About Carter's, Inc.
Carter's, Inc. is the largest branded marketer in the United States and Canada of apparel and related products exclusively for babies and young children. The Company owns the Carter's and OshKosh B'gosh brands, two of the most recognized brands in the marketplace. These brands are sold in leading department stores, national chains, and specialty retailers domestically and internationally. They are also sold through more than 900 Company-operated stores in the United States and Canada and on-line at http://www.carters.com, http://www.oshkoshbgosh.com, and http://www.cartersoshkosh.ca. The Company's Just One You, Precious Firsts, and Genuine Kids brands are available at Target, and its Child of Mine brand is available at Walmart. Carter's is headquartered in Atlanta, Georgia. Additional information may be found at http://www.carters.com.
About Scholastic
Scholastic Corporation is the world's largest publisher and distributor of children's books, a leading provider of print and digital instructional materials for pre-K to grade 12, and a producer of educational and entertaining children's media. The Company creates quality books and ebooks, print and technology-based learning materials and programs, classroom magazines and other products that, in combination, offer schools customized and comprehensive solutions to support children's learning both at school and at home. The Company also makes quality, affordable books available to all children through school-based book clubs and book fairs. With a 95 year history of service to schools and families, Scholastic continues to carry out its commitment to "Open a World of Possible" for all children. Learn more at http://www.scholastic.com.