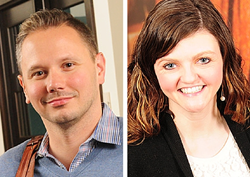 I look forward to working with the talented team at Converge and harnessing their ingenuity and creativity to benefit our higher education partners. - Joshua Irons, Vice President of Strategy and Development
Cedar Rapids, Iowa (PRWEB) February 15, 2016
Converge Consulting, a digital marketing firm that specializes in higher education, has hired Joshua Irons as Vice President of Strategy and Development. Irons will provide leadership, management and vision as he helps Converge execute growth-focused strategies, streamline operations, hiring and professional development and grow its east coast presence.
A seasoned digital executive, leader and strategist, Irons has more than 15 years of experience initiating transformative solutions in corporate and entrepreneurial environments. In his most recent role as Vice President of Sales and Account Management at Leadnomics, he developed and grew a highly skilled team of solution providers while taking several new products to market. Prior to Leadnomics, Irons was responsible for multiple product lines and teams of analysts, strategists, product managers, account managers and sales professionals in various positions for EducationDynamics. He's excited to build on these experiences to help the Converge team develop professionally and extend its reach.
"I look forward to working with the talented team at Converge and harnessing their ingenuity and creativity to benefit our higher education partners," said Irons. "The team is on the verge of truly changing the role digital marketing plays in the higher education space. I could not resist the opportunity to be part of something so transformative."
Irons holds an MBA in marketing from Villanova University and a bachelor's degree in journalism, PR, and advertising from Temple University. He also has an international business certificate from Bocconi University in Milan, Italy. Irons currently resides in the Philadelphia area.
Converge also recently hired Michelle Rhatigan as a digital strategist. Rhatigan comes to Converge from 3Q Digital, one of the top five digital ad agencies in Chicago. She has experience in the digital marketing climate and will help Converge scale its digital and social media work.
At 3Q Digital, Rhatigan worked as an account manager to develop and execute strategies for clients in a range of industries including tutoring, IT support and consumer goods. She created close relationships with her clients to identify and set both lead volume and ROI goals, which were achieved by recommending and implementing key testing initiatives. Rhatigan looks forward to being a part of the digital advertising team at Converge and building on the success Converge has achieved so far as a fast-paced, growing company.
"I'm truly excited to be a part of the team at Converge as we continue to deliver high impact results to our clients and higher education marketing as a whole," Rhatigan said. "I look forward to utilizing my unique experiences in innovative ways to keep our strategies evolving."
In the past four years, Converge's unprecedented success has resulted in year-over-year sales growth of more than 100 percent. The company works with esteemed clients including UCLA, Tulane University, Creighton University, American University, University of Loyola and Columbia University Teacher's College. Converge anticipates continued business growth in 2016 and plans to expand its team of employees in Philadelphia, Denver, and Cedar Rapids. Converge also looks to make Inc. 5000 status this year.
"We couldn't be more excited to have Josh and Michelle on the team," said Jay Kelly, President and Managing Partner at Converge. "Their experience in digital is extremely valuable, and as we look to the future, finding the right talent will be key in keeping Converge at the forefront of what's new and next."
Converge Consulting is a digital agency for higher education with offices in Cedar Rapids, Iowa, Denver, Colorado and Philadelphia, Pennsylvania. Converge uses what's new and next in inbound marketing, website design, content strategy, search engine optimization, digital advertising and web analytics to positively impact student recruitment and alumni engagement for colleges and universities around the world.