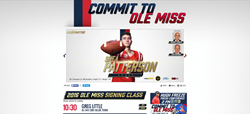 Oxford, Miss. (PRWEB) February 09, 2016
National Signing Day generates more traffic for college athletics departments' digital properties than any day of the year, and Ole Miss made the most of it last week.
The Rebel coaching staff certainly did its part by hauling in the best recruiting class in the football program's history, ranked fourth in the nation by ESPN. The athletics department leveraged that success by initiating "Commit to Ole Miss," a 24-hour period that included the launch of a crowd-funding campaign, the release of a special episode of its all-access show, an enhanced signing day website and accompanying social media collateral and a packed private party for donors.
On Tuesday at 6 p.m. CT, the eve of signing day, Ole Miss activated an Ignite website, http://www.CommitToOleMiss.com, to raise $500,000 to update its football facility, the Manning Center, with new wall graphics, a sound system and trophy cases. Perks included the powder blue helmets worn in the team's Sugar Bowl win, old turf that had been removed from Vaught-Hemingway Stadium, replica Sugar Bowl rings, pieces of trees that stood in the stadium's north endzone before its current expansion and a commemorative Sugar Bowl poster.
To further drive fans to the Ignite site, the Sugar Bowl edition of the athletics department's Emmy Award-winning show "The Season: Ole Miss Football" was debuted and embedded on the home page. More than 24,000 fans visited the site in the first day, and the video had almost 22,000 loads.
Response to the campaign has been overwhelming. Funds topped $84,000 in the first hour, $150,000 in less than four hours and $288,000 in the first 24. The ongoing campaign is well over halfway to its goal.
Ole Miss is no stranger to successful crowd-funding campaigns. After fans tore down the goalposts after the Rebels' historic 2014 win over Alabama, the school's campaign to replace the goalposts reached its goal of $75,000 in less than three hours.
"Our University's Ignite platform has given us so many unique ways to engage our fans and donors, and we've been thrilled to find so many donors to the campaigns that we did not have in our database," said Michael Thompson, Ole Miss senior associate athletics director for communications and marketing. "The key to this particular campaign was combining the incredible memories and nostalgia of the Sugar Bowl victory and 2015 season with the excitement of national signing day."
Momentum from the campaign launch carried over into the school's National Signing Day coverage on Wednesday. Beginning at 6 a.m., announcements of signees were published on the special signing day central takeover page of the athletics department's official site, http://www.OleMissSports.com, with bios and video highlights. Page views to the signing day central were up over 16 percent compared to last year.
Signee news was also distributed through the Rebels' official football social media accounts. Signing day earned the Facebook account (OleMissFootball) 653 new fans and more than 26,000 engagements, while Twitter (@OleMissFB) picked up 776 new followers with 18,000 engagements. In addition, Ole Miss ran Facebook and Instagram (@OleMissFB) ads that were viewed by 122,000 fans, resulting in more than 5,100 clicks (approximately 4.2 percent).
"Our digital metrics saw anywhere from four to 18 times greater statistics when compared to a normal day," said Jim Hanauer, Ole Miss assistant AD for digital strategy and analytics. "All of our digital platforms recorded historic days with 30,000 unique visitors to OleMissSports.com visiting roughly 118,000 different pages, Facebook reaching over 325,000 people, and Twitter being the highlight of the day with 1.5 million tweet views, with an average of more than 52,000 views per tweet."
In addition to the campaign bump, new creative video content likely contributed to the increased traffic. Each signee was introduced with a digitally-enhanced hype video of the student-athlete that was shot on their recruiting visit to campus.
"The switch from still graphics to videos gives the fan a better glimpse at the personality of our incoming student-athletes," said Kyle Campbell, Ole Miss associate AD for media and public relations. "Schools have conducted photo shoots on recruiting trips for several years, and the prospects enjoy the opportunity to express themselves. Advancements in the social media space allowed us to add a video component to our content across all platforms, and thus better personalize and humanize our fans' future heroes."
The 24 hours to "Commit to Ole Miss" ended with a private party for approximately 800 Ole Miss Athletics Foundation members, where the Rebel coaching staff provided a breakdown of the signing class and stories from its recruitment. The fourth-annual event was simulcast to seven alumni clubs across the nation.
About Ole Miss Athletics
The University of Mississippi, which is known as Ole Miss, is a member of the NCAA and Southeastern Conference and features 18 varsity sports in its athletics department. Bearing the nickname Rebels and wearing the colors Cardinal Red and Navy Blue, these teams have produced 18 national championships and 129 conference and division titles since 1893, when the football program fielded the school's first varsity squad. Based in Oxford, Mississippi, with a student enrollment of 23,838, Ole Miss operates with a $96 million athletics budget, and the department is in its fourth year under the leadership of Athletics Director Ross Bjork.