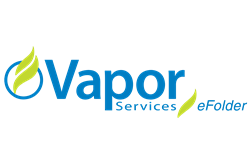 Now, business users finally have the dependable solution they need to make files available in literally any location in the most efficient and proactively-secure way possible
Atlanta, Georgia (PRWEB) February 10, 2016
Vapor Services, the industry's leading managed services and IT solutions provider, is incredibly proud to announce the launch of its new product, the Vapor eFolder. Designed to take full advantage of the bring your own device trend that is so prevalent in the modern business world, the Vapor eFolder provides a way for business users to sync sensitive files and other documents between any device they have and more.
At its core, the Vaper eFolder is intended to allow users to access all of their files on any device at any time - period. A user can create a file on their desktop computer, instantly pick up working on a laptop, and can even access and make changes to documents on their smartphones, tablets and other mobile devices. After the initial setup process, all of this happens instantly without any necessary interaction from the user. Users can be as productive as they need to be whenever they need to be, all while maintaining control and visibility in terms of their administrators and business' owners.
"We think the 'bring your own device' trend is one of the most important to hit the business world in quite some time, but that shouldn't come at the expense of security" said Will Nobles, CEO of Vapor Services. "Now, business users finally have the dependable solution they need to make files available in literally any location in the most efficient and proactively-secure way possible."
One of the major factors that separates the Vapor eFolder from consumer-grade solutions has to do with the robust security and control features that are available to all users at the time of launch. Leaders within an organization and other IT professionals can not only limit or control which devices are permitted to sync and which ones aren't, but they can also audit file syncs, closely watch file changes, remotely wipe data from devices that are lost or stolen and more. Leaders can now monitor and manage how employees are using their mobile devices, providing a deeper level of accountability while still offering the flexibility required from a business-grade file sync solution.
In addition to products like the Vapor eFolder, Vapor also offers a wide range of proactive managed services to clients looking for new and innovative ways to increase both productivity and efficiency at the same time. These services were designed from the ground up to provide security, efficiency and reliability, all while staying within the limits of a fixed IT budget common in many small and mid-sized organizations.
Based in Atlanta, Ga., Vapor is a technology consulting and services company that specializes in managed services as well as hosting, consulting and more. Their client list currently includes everything from Fortune 1000 firms to startup businesses and everything in between. They have partnered with several key technology vendors in an effort to provide products and services to clients to help meet all of their hardware and software needs. Over the last several years they have successfully managed a wide range of implementation projects throughout the U.S., the United Kingdom and Brazil.
Those looking for more information about the Vapor eFolder are encouraged to visit its product page for details. To find out more about all of the high quality products and services that Vapor regularly releases to the marketplace, please visit the company's official website at http://www.vaporservices.com.